'New dawn' as MSPs approve land reform proposals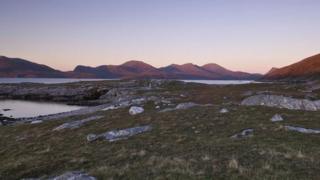 MSPs have approved a bill reforming land management after a day of debate at the Scottish Parliament.
The Land Reform Bill, which will create a register of people in control of land in Scotland, has been heavily amended while passing through Holyrood.
A new Scottish Land Fund is also to be opened, with Land Reform Minister Aileen McLeod saying there could be a "new dawn" on land management.
The bill was debated in the chamber throughout much of the day.
Watch all the Stage 3 proceedings of the Land Reform Bill at Holyrood Live.
It has been claimed that 432 private land owners - 0.008% of the Scottish population - owned 50% of the private land in rural Scotland in 2012.
A Land Reform Review Group set up by the Scottish government said of that statistic: "As a measure of inequality in a modern democracy, this is exceptional and is in need of explanation."
The Land Reform Bill measures include:
creating a register of people in charge of land
provisions to force land sales if owners block economic development
setting up a Land Commission
plans to improve the systems of right to roam and common good land
More than 100 amendments were discussed during a lengthy debate at Holyrood, before MSPs voted 102 to 14 to approve it. Labour backed the SNP over the proposals, while the Conservatives voted against them.
MSPs had said the legislation needed "more work" to deliver truly radical reform, while SNP conference delegates last year backed making it more "robust".
Ms McLeod, who had to go home due to a sore throat halfway through the debate, said the bill had been "significantly strengthened" by the numerous amendments.
She added: "We are seeing a new dawn for community ownership in Scotland. The bill will allow more communities than ever the opportunity to be involved in decisions about land that affects them.
"The bill has been significantly strengthened since it was introduced last year, following discussions with the parliament and the public."
Summing up in her absence, Environment and Rural Affairs Secretary Richard Lochhead said the bill would empower communities and individuals to shape their lives and futures.
Ms McLeod has also announced that a new £10m Scottish Land Fund to help communities buy their own land will open on 1 April. The previous fund awarded £9m to 52 communities across Scotland in three years, assisting in the purchase of 90,000 acres of land.
Labour's environmental justice spokeswoman Sarah Boyack said the way the bill had progressed was "an absolute shambles", but said her party had "worked hard" to strengthen the bill.
She said: "We are proud of the changes we have secured, but we believe the SNP could have gone further in key areas.
"We will continue to work with land reform campaigners, the SNP and others in a constructive way to improve land ownership in Scotland."
The Conservatives opposed the bill amid concerns it will "disadvantage tenants, make it harder for new entrants and discourage owners of land from letting it, in direct contrast to the stated aims of the Bill".
Conservative rural affairs spokesman Alex Fergusson added: "SNP plans for land reform across Scotland are rooted in ideology and will cost local jobs in rural communities.
"The proposals could lead to greater government interference in land ownership and an increase in the tax burden on rural businesses.
"Overall, we cannot support a bill that will disadvantage tenants, make it harder for new entrants and discourage owners of land from letting it."
'Hostile debate'
The Scottish Greens pressed amendments to restrict ownership by companies using British Overseas Territories and Crown Dependencies such as the Cayman Islands, but saw these rejected by MSPs.
Andy Wightman, the party's land reform spokesman, said: "Scottish land should not be owned by companies using tax havens."
The Scottish Wildlife Trust has backed measures to strengthen deer management provisions in the Bill.
But Scottish Land and Estates said landowners were being cast as "whipping boys in an increasingly hostile debate".
Chairman David Johnstone said: "Unfortunately, the debate has become feverish and instead of the focus being solely on delivering what is best for rural Scotland, time and again we have seen raw anti-landowner sentiment come to the fore."