Easyjet will increase Scottish flights if duty cut plan goes ahead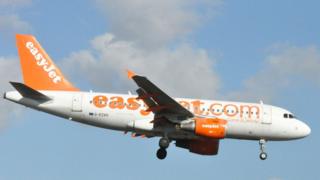 Airline EasyJet said it expected to increase flights to and from Scotland by about 30% if cuts to air passenger duty go ahead.
The budget carrier believed that would lead to passenger numbers going from 5.5 million to seven million each year.
Easyjet's statement is in response to the Scottish government's 12-week consultation into its plans to reduce the tax by 50%.
Not everyone has responded positively, including opposition parties.
The Scottish Greens, Scottish Labour and the Scottish Lib Dems have voiced objections.
Air passenger duty rates currently range between £13 and £146, depending on the distance of the flight and the class of seat.
The Scottish government confirmed in its most recent Programme for Government that it intended to reduce APD in Scotland by 50% between April 2018 and 2021.
Control of the tax will be devolved to Holyrood when the Scotland Bill becomes law.
The consultation will seek a range of views, including on issues such as;
how the reduction should be structured
how the tax should be operated to help boost Scotland's international connectivity and economic competitiveness
and what environmental issues should be considered.
Sophie Dekkers, Easyjet's UK director said: "We strongly welcome the Scottish government's commitment to halve the tax for passengers.
"They have rightly recognised that cutting the tax will boost tourism, investment and business activity in Scotland. Research by PwC has shown that abolishing APD would have a positive effect on jobs and growth, as well as public finances in the longer term."
But she urged the government to make the "full" 50% cut in 2018 so that the benefits for Scotland "are felt as quickly as possible".
---
What is Air Passenger Duty?
Air passenger duty is charged on all passenger flights from UK airports
The rate of tax varies according to where the passenger is going, and the class of travel
It was introduced in 1994, and was originally just £5 per person for short-haul flights, and £10 elsewhere
The tax has been increased by successive UK governments, and brings in about £3bn a year
From 1 April of this year, flights of 2,000 miles or less will see APD charged at £13 for passengers in economy class seats, and £26 for all other classes
For flights of more than 2,000 miles, the rate will be £73 for economy class, and £146 for any other class
A higher rate - payable for aircraft weighing more than 20 tonnes but equipped to carry fewer than 19 passengers - will be charged at £78 for the lowest class of seats and £438 for all others
No APD is charged for direct long-haul flights from Northern Ireland, or for flights from airports in the Scottish Highlands and Islands
Air passenger duty for children aged over 12 and under 16 on economy flights was abolished from 1 March
It was abolished for under 12s on economy flights last year
---