Put your questions to Scottish Labour leader Kezia Dugdale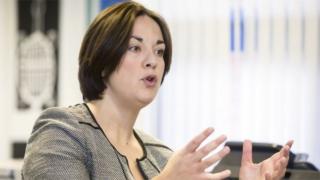 The Scottish Labour Party will be holding its spring conference in Glasgow on Saturday.
As part of BBC Scotland's coverage, leader Kezia Dugdale will take part in a half-hour webcast in which she will answer your questions.
Do you want to find out what her party's long-term plans are for Holyrood's new tax powers or how Labour's approach to education differs from other parties?
This is also your opportunity to quiz her on Europe, health, policing, crime and the state of Scotland's economy.
If you have something to ask Ms Dugdale, email newsonlinescotland@bbc.co.uk
Please put "webchat questions" in the message field of your email.
You will be able to watch the one-to-one interview, hosted by BBC Scotland political editor Brian Taylor, via BBC Scotland's politics website.