Jeremy Corbyn will not address Scottish Labour conference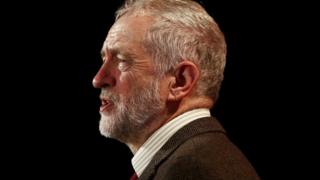 Labour leader Jeremy Corbyn will not address the Scottish Labour one-day conference in Glasgow, BBC Scotland has learned.
Members of the party will meet next week for their final conference before the Scottish election on 5 May.
But the UK party leader will not appear, with a spokesman telling BBC Scotland they want the focus to be on Scottish Labour leader Kezia Dugdale.
Mr Corbyn did speak at the Scottish Labour conference in October.
Last week, Prime Minister David Cameron addressed the Scottish Conservative conference in Edinburgh.
'Undermining campaign'
And the week before, Liberal Democrat leader Tim Farron appeared at his party's Scottish conference .
Earlier this week, Former MSP Lord Foulkes wrote to Mr Corbyn alleging speakers at a "Jeremy Corbyn for PM" event in Edinburgh praised the SNP and failed to mention Ms Dugdale.
In the letter, Lord Foulkes wrote: "For those of us fighting hard in the Scottish Parliament election campaign it is enough to make us burst into tears that such clowns are undermining our campaign in your name."
He called for the Labour leader to give assurances he will raise concerns with those involved.
A spokesman for Mr Corbyn said the event was nothing to do with the party.