Scotrail has 'no spare capacity' during Glasgow station work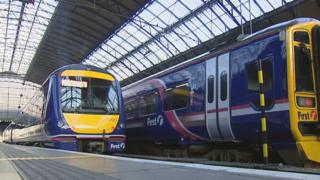 Scotrail Alliance has "no spare capacity" should their daily plan for extra rail services into Glasgow during works at Queen Street Station fail.
The main tunnel serving the busy station is to be closed for 20 weeks, causing major disruption.
Services will divert to either Queen St low-level platforms or Glasgow Central station between 20 March and 8 August.
Scotrail Alliance boss Phil Verster said a single train failure could leave the daily service plan "dead".
Holyrood's infrastructure and capital investment committee was taking evidence about work at Queen Street Station, which includes station improvements and the electrification of train lines.
The managing director told MSPs there was "no spare train capacity", meaning a train failure in certain areas of the city could leave the daily service plan "dead".
'Huge effort'
He said: "To give you a sense of this, I am hiring in crews from other train operators and freight operators to help me with transferring some of the services from Aberdeen and Inverness into Glasgow Central.
"It's all-out, and it will be for this 20 week period. It's going to be a huge effort from our side and we have to find ways to create the robustness which spare capacity could have given us.
"With the way I am cycling rolling stock and services through areas from Belgrove to Hyndland, if I have a train failure there, the plan is dead. The daily service plan is dead. And that's just the way the network is.
"We're deploying people who would typically do other duties to been there to give us a robust service on the day.
"The plan is tight, and it's going to be tough."
The work is part of a £60m upgrade project which will allow faster and longer trains to use Queen Street Station.
It will involve 140 days of continuous round-the-clock work, the removal of 10,000 tonnes of existing concrete slab and the installation of 4,000m of new rails.
Passengers using the main Edinburgh to Glasgow route are advised to travel via Bathgate and Airdrie, with the journey taking around 70 minutes.
During his evidence session, Mr Verster also defended the decision to ban taxis from Edinburgh's Waverley Station.
Mr Verster said the decision was taken on safety grounds following the death of a passenger who was run over.