EU referendum: Jim Sillars urges Yes voters to back EU exit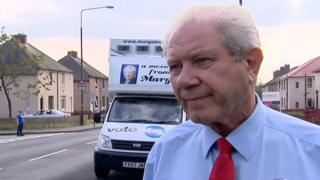 A former deputy leader of the SNP has launched a campaign urging independence supporters to vote to leave the EU.
Jim Sillars said he wanted the SNP to win the Holyrood election on 5 May despite being "certain that their position on the EU is wrong".
In a pamphlet posted on his ScotLeave.EU Facebook page, Mr Sillars argued that the cause of independence would be best served by leaving the EU.
All five parties at Holyrood, including the SNP, support EU membership.
But there are some dissenting voices within the parties, including Mr Sillars, Scottish Conservative MSP Margaret Mitchell and former MP Nigel Griffiths, who is leading a Labour campaign in Scotland which is opposed to EU membership.
'Happier and freer'
Scottish First Minister Nicola Sturgeon, who is also the SNP leader, said earlier this week that she wants an "overwhelming" vote in favour of EU membership in the referendum on 23 June.
Ms Sturgeon said EU membership had made people "wealthier, healthier, happier and freer" and that continued membership was in the best interests of both Scotland and the UK.
But she has also said that if Scotland votes to remain in the EU while the UK as a whole votes to leave, it could trigger demands for a second independence referendum.
Mr Sillars has questioned why independence supporters would feel loyalty to the EU, which he said had "told us (the Yes campaign) to get stuffed" ahead of the independence referendum by saying Scotland would need to apply for membership as a new state.
He said the idea that the UK voting to leave the EU would trigger an independence referendum was "not only fanciful but undermined by the SNP decision to take the debate down south".
It also "gives legitimacy to David Cameron's claim that there can be no special status for Scotland", he said, adding that it was a "significant tactical error" by the SNP.
'Face a challenge'
Mr Sillars said leaving the EU "would deliver what member state status cannot - real independence on key policies, controlled only by ourselves and the unfettered ability to make our own laws".
"It is called sovereignty and nationalists used to support it.," he said.
Mr Sillars, who is a long-standing critic of the SNP leadership, added: "While I believe that SNP policies for the governance of Scotland are right, I am equally certain that their position on the European Union is wrong.
"This means nationalists face a challenge; separating their loyalty to the party from their loyalty to the cause of independence."
"They should vote for the SNP in May and against them in June. When assessing what outcomes will advance the cause of independence, objectivity and logical analysis, not blind loyalty will be required."