Scottish Lib Dem conference: Delegates vote to end fracking moratorium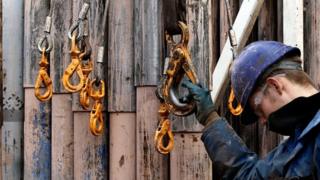 The Scottish Lib Dem conference has voted in favour of lifting a moratorium on fracking in Scotland.
Delegates passed an amendment at their annual gathering in Edinburgh. However, the move was opposed by party leader Willie Rennie.
Last year the Scottish government introduced a block on planned fracking operations.
Opponents of the energy capture claim it causes earthquakes and pollutes water supplies.
Scottish ministers said they were keen to carry out work on the environmental and health implications.
The Scottish Lib Dem conference amendment said: "Lifting the moratorium on planning and licensing for unconventional oil and gas extraction, granting the potential for Scottish-sourced unconventional gas to supply our important petrochemical industry."
---
What is fracking and why is it controversial?
Fracking is the process of drilling down into the earth before a high-pressure water mixture is directed at the rock to release the gas inside.
The extensive use of fracking in the US, where it has revolutionised the energy industry, has prompted environmental concerns.
The first is that fracking uses huge amounts of water that must be transported to the fracking site, at significant environmental cost.
The second is the worry that potentially carcinogenic chemicals used may escape and contaminate groundwater around the fracking site.
But the industry suggests fracking of shale gas could contribute significantly to the UK's future energy needs