Scotland's future funding deal published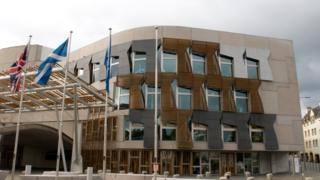 The agreement between the Scottish and UK Governments over Scotland's future funding has been published.
The fiscal framework deal was agreed on Tuesday after months of talks between the two governments.
The paper confirms the "no detriment" principle and that an independent review of the block grant adjustment will be held by the end of 2021.
The Scottish government said there will be £200m to support the implementation of new social security powers.
Scotland's capital borrowing limit will be increased to £3bn, with an annual borrowing limit of £450m.
New resource borrowing powers to deal with increased budget volatility will be capped at £1.75bn.
The Scottish Fiscal Commission will now prepare independent forecasts of Scottish tax revenue, demand-driven welfare spending and onshore GDP.
'Fair' deal
Deputy First Minister John Swinney said: "The fiscal framework agreement with the UK government implements the Smith Commission and is fair to taxpayers in Scotland and across the UK.
"The agreement makes clear that the Barnett formula will remain and that Scotland's block grant will be adjusted annually to ensure no detriment to Scotland as a result of having new powers.
"The fiscal framework increases the Scottish Parliament's financial responsibility and allows future Scottish governments to exercise new powers effectively to create a fairer and more prosperous Scotland.
"I am pleased the agreement has now been published to allow Parliament and the public to scrutinise and judge for themselves."
Chief Secretary to the Treasury, Greg Hands, said: "Today we have published the details underpinning the historic fiscal framework deal, bringing us one step closer to Scotland having one of the most powerful devolved parliaments in the world.
"This yet again shows how the UK and Scottish governments can work effectively together for the interests of taxpayers across the whole of the UK.
"Now the details of the deal have been agreed, the debate can shift to what really matters - how these powers will be used to create a stronger Scotland."
Disagreements over the fiscal framework had threatened to delay passage of the Scotland Bill which promises much greater devolution as agreed by the Smith Commission after the "no" vote in the Scottish independence referendum.
The final sticking point revolved around how Scotland's block grant from Westminster would be reduced in light of new devolved fundraising powers
Scotland's population is projected to grow more slowly than that of the UK's in the coming years, and the two parties disagreed over how to balance out the financial impact of this after the first five years of the deal.
A compromise was reached on how this would work for the first five years. There will then be a review carried out without any prior expectation of Scotland taking on an extra financial burden, and an independent study carried out to inform that process.