Swinney dismisses claims new Holyrood powers could be devolved early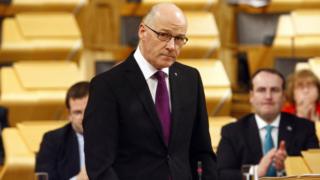 Claims that new powers could be devolved to Holyrood earlier than anticipated have been dismissed by Scotland's finance secretary.
John Swinney was responding to the Scottish secretary, David Mundell, who said some of the new powers could be in place shortly after May's election.
But Mr Swinney accused Mr Mundell of a "leap of imagination".
The Scottish and UK government agreed a deal on the so-called fiscal framework on Tuesday.
The framework sets out how the block-grant that the Scottish government receives from Westminster would be altered to take account of new powers over areas such as income tax and VAT that are being devolved under the Scotland Bill.
It had been seen as the last major stumbling block to the Scotland Bill being devolved, with the general expectation being that the new powers would come into force next year.
Mr Mundell told Holyrood's devolution committee on Tuesday that he expected control over income tax to pass to MSPs by April 2017, in time for the next budget of the new Scottish Parliament.
But he anticipated that a number of the other new powers "will be in place almost immediately after the Scottish Parliament elections".
'Distinctive legislation'
He added: "One of the other tax powers for example, Air Passenger Duty, can be transferred at the point that the Scottish government has its model ready for that transfer.
"If the arrangements are available shortly after the Scottish Parliament election we would be able to transfer them.
"In relation to the wider powers and the wider tax, we place no impediment in relation to the transfer of those powers."
However, speaking to the BBC's Good Morning Scotland programme, Mr Swinney said he did not agree with Mr Mundell's assessment.
He said: "The whole devolution process cannot commence until we have put in place distinctive legislation within Scotland.
"To see that coming earlier than 2017 - and even 2017 strikes me as being quite early - is quite a leap of imagination."
Mr Swinney said that the Smith Commission recommendations and "many elements" of the Vow on new powers made by the three main UK party leaders ahead of the independence referendum had now been delivered.
But he said Gordon Brown's promise that something "near federalism" would be delivered if Scots rejected independence had still not been fulfilled.
And he denied that the fiscal framework was a "trap" set by the Treasury, adding: "It could have been a trap if I'd fallen for it but I didn't".
Mr Mundell is expected to give more details of the fiscal agreement to the House of Commons later.
Talks over the fiscal framework, which began in March of last year, had stalled over different interpretations of a key line of the Smith Commission agreement, which said there should be "no detriment" to either the UK or Scottish budgets as a result of the changes.
First Minister Nicola Sturgeon said the deal, reached after 10 rounds of negotiations, meant "not a single penny of detriment to the Scottish government's budget" for six years, followed by a review of future arrangements.
Chancellor George Osborne said the agreements were "fair to Scotland and fair to taxpayers in the rest of the UK".
Lord Smith of Kelvin, who chaired the cross-party Smith Commission set up after the "No" vote in the 2014 Scottish independence referendum, said the deal on new powers for Holyrood could now be "delivered in full".
He said: "The next term of Scottish parliamentarians will be debating and taking decisions over large parts of Scotland's tax and welfare policy. I believe this will be transformational for our parliament.
"There should be no doubt that this was a highly complex package of measures to agree. It is difficult to imagine a bigger test of inter-governmental relationships and while it was obviously a very tough negotiation, what matters is that an agreement was reached.
"This provides an excellent basis for constructive engagement between the governments long into the future.
"When the Smith Agreement was passed to the prime minister and first minister, both gave their word that they would deliver it into law - they have met that promise in full."