Swinney: 'Progress made' but no deal in latest fiscal framework talks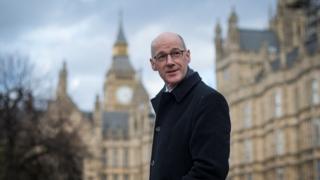 The UK and Scottish governments have made "some progress" in talks to establish a fiscal framework for new devolved powers, but are yet to finalise a deal.
Finance Secretary John Swinney and his Treasury counterpart Greg Hands met for talks for the tenth time in London.
Mr Swinney said progress had been made on a number of issues, but said there was not yet an "overall agreement".
Mr Hands said the talks would now continue into the weekend.
Both sides are expected to lay out their positions to MSPs on Tuesday.
It was hoped a deal could be struck before representatives of the UK and Scottish governments are due to appear at Holyrood to give evidence about the deal, which will establish a financial basis for new powers to be devolved as part of the Scotland Bill.
No "overall agreement" was reached, but both sides said progress had been made during Friday's talks, with chancellor George Osborne involved for the first time.
BBC Scotland understands Mr Osborne also spoke to First Minister Nicola Sturgeon about details of the deal.
---
Analysis by Nick Eardley, BBC Scotland Westminster correspondent
Still no deal, but optimism from both sides.
John Swinney says there has been progress; Scottish Secretary David Mundell says the same.
There are still issues which need to be resolved. The Scottish government says they are significant.
But the involvement of the chancellor in the talks for the first time is seen by both governments as a sign of how seriously the UK side is taking the negotiations.
As the EU talks in Brussels show, nothing is guaranteed. But for the first time in weeks, there's a glimmer of hope.
---
While describing the talks as "productive", Mr Swinney said there were "significant issues" still to be resolved.
He said: "We have not managed to reach an overall agreement today, but we have made progress on a number of issues that are relevant to the agreement.
"We don't have a lot of time on our side because the parliamentary scrutiny of the Scotland Bill and the fiscal framework is due to commence in the Scottish Parliament on Tuesday, so it is important that we work with all speed to try to resolve the outstanding significant issues.
"We are committed to resolving those issues and to working with the UK government to enable that, and we will concentrate on that work in the course of the next few days to try to resolve these outstanding questions."
'Absolutely committed'
Mr Hands said there had been a "step forward" in the negotiations, with "progress being made in a number of important areas".
He said: "The UK government is absolutely committed to implementing the Smith agreement in full and willing to go the extra mile in order to secure an agreement.
"We've agreed that UK and Scottish government officials will continue discussions over the weekend and I remain confident that a deal can be reached that is fair to Scotland and fair to the rest of the UK, now and in the future."
Ms Sturgeon has previously written to Prime Minister David Cameron calling for him to step in over the matter.
The prime minister has said that "no one is keener" than he is to reach an agreement, but also warned the Scottish government would have to be ready to "move towards" his position.
Scottish Labour leader Kezia Dugdale has written to Ms Sturgeon urging the Scottish government to stay at the negotiating table, saying the talks should be extended until Holyrood breaks up on 24 March if a deal is not struck next week.
Despite months of talks, the deadline for agreement was pushed back earlier this month.
Holyrood's devolution committee said there would be "very substantial impacts" on Holyrood's ability to scrutinise the deal if matters were delayed beyond Friday, and called for a "full explanation" of arguments by its next meeting on 23 February.
The two sides differ on key parts of the deal, in particular their interpretation of the "no detriment" principle called for by the Smith Commission on further powers for Scotland.
This means neither the Scottish or UK budgets should be left worse off in future by the finalised agreement, but the negotiating teams differ in their interpretations of this.
'Not logical'
The Scottish government claims the Treasury's latest offer would amount to an "almost £3bn cut", while Mr Hands insists an offer tabled by Mr Swinney is "not logical" and "not fair" to taxpayers across the rest of the UK.
The key issue concerns population growth. With Scotland's population forecast to grow more slowly than that of the UK as a whole in coming years, the two sides differ on how Scotland's block grant should be altered to cushion against the economic impact of this.
Mr Swinney said the talks had been "productive" in some other areas.
He said: "We have managed to resolve a number of the issues that were involved because the fiscal framework has been about a range of different issues, not just about the principle of no detriment in the block grant adjustment.
"So some progress has been made, but we have outstanding questions, significant questions, that have yet to be resolved.
"There are very significant powers that are being transferred to the Scottish Parliament. So we are energetic and enthusiastic about securing those powers and being able to exercise those powers, but we have said all along we can only do that if we have a fair fiscal framework in place."