Ruth Davidson calls for fiscal framework compromise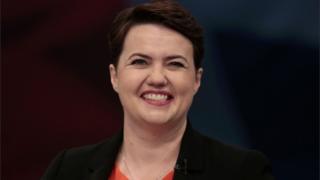 Scottish Conservative leader Ruth Davidson is pushing for a compromise between the Scottish and UK governments over deadlocked fiscal framework talks.
Further talks on a deal to underpin new devolved powers will be held on Friday.
Ms Davidson has proposed a compromise which would see both sides give some ground to agree a shorter term deal which would be reviewed in five years.
First Minister Nicola Sturgeon has written to David Cameron calling for him to step in over the matter.
Holyrood's devolution committee wants both sides to present their cases when called to give evidence on 23 February.
Scottish Finance Secretary John Swinney has held talks with his Treasury counterpart Greg Hands over the phone - the latest negotiations in a process which has lasted for months.
Mr Hands is currently on holiday with his family, but a spokeswoman said he would return to hold face-to-face talks with Mr Swinney on Friday morning.
She said the UK government had shown it was willing to compromise and "go the extra mile" to secure an agreement.
'No detriment'
The two sides differ on key parts of the deal, in particular their interpretation of the "no detriment" principle called for by the Smith Commission on further powers for Scotland.
This means neither the Scottish or UK budgets should be left worse off in future by the finalised agreement.
The Scottish government claims the Treasury's latest offer would amount to an "almost £3bn cut", while Mr Hands insists an offer tabled by Mr Swinney is "not logical" and "not fair" to taxpayers across the rest of the UK.
The deal proposed by Ms Davidson would see both parties give some ground.
She wants the Scottish government to agree to the UK government's new method of calculating the amount of money it receives each year from the Treasury.
In return, she wants the UK government to guarantee that the devolved administration would not receive "a penny less" than it would under its preferred mechanism, effectively insuring Holyrood against any budget shortfall.
This deal would then be reviewed in full after a five year trial period.
Ms Davidson said: "We have a model on the table which has gone through several revisions to take account of Scottish Government concerns. The Treasury is confident that this model will work well and ensure there is no shortfall, but the Scottish government says it has doubts.
"Let's take those doubts away and, on so doing, stop dealing in hypotheticals and projections. Let's run this revised model for a few years, but with a guarantee. If there is any shortfall at all, it will be made up, in full, directly by the UK Treasury.
"And, at the end of this trial period, let's have an honest assessment of how the model has worked and tweak it if any tweaks are required. That way all of Scotland can see how it works in practice without any risk to public expenditure."
Both Mr Swinney and Mr Hands have voiced hopes that a deal can be struck this week, although both also say the onus is on the other to cede ground.
Meeting offer
Prime Minister David Cameron has said that "no one is keener" than he is to reach an agreement, but also warned that the Scottish government would have to be ready to "move towards" his position.
Ms Sturgeon, who wrote to Mr Cameron outlining the Scottish government's position on the no detriment principle, has called on the prime minister to step in to help resolve the dispute.
In her latest letter, Ms Sturgeon offered to meet Mr Cameron for talks on the deal, saying the present proposal would "deliver substantial detriment to the Scottish budget."
'Signal movement'
She added: "The chief secretary's continued reluctance to entertain this proposal makes it hard to avoid the conclusion that your government is unwilling to agree the principle of 'no detriment' in the terms set out in my letter to you.
"If that were the case it would mean, in my view, that you had failed to honour both your pre-referendum vow and your commitment to implement in full the recommendations of the Smith Commission. I think that view would be widely shared in Scotland.
"I would suggest that it is the Treasury, not the Scottish government, that now needs to signal movement on the issue of block grant adjustment."
A spokeswoman said Mr Cameron had received the letter and would respond "shortly".
Ms Sturgeon also raised wider concerns about funding, saying the UK government was only offering £50m to help set up a devolved welfare system, something she said would cost several hundred million pounds.
The Treasury said the level of funding asked for suggested that the Scottish government was either planning on running "a remarkably inefficient benefit system", or that they were "not serious about agreeing a deal".