MSP given warning over FMQs 'liar' remark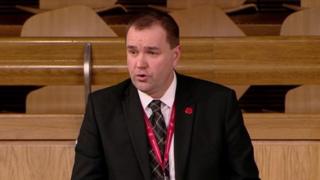 Holyrood's presiding officer has written to a Labour MSP warning him about his conduct in the chamber after he called the first minister a "liar".
Neil Findlay asked to withdraw his "unparliamentary" remark following a heated session of First Minister's Questions, but said he wanted to replace it with "dishonest".
Tricia Marwick has written to him warning him about his conduct.
She said another breach could see him referred to the standards committee.
During a rowdy exchange at First Minister's Questions, punctuated by Ms Marwick asking members to "stop heckling the first minister", Lothian MSP Mr Findlay shouted "liar" at Nicola Sturgeon as she attacked Labour's tax policy.
At the time, Ms Sturgeon said the "volume of insults" showed how "desperate" the opposition were.
Mr Findlay later issued a qualified withdrawal, saying that given Ms Sturgeon had described Labour's policy as "dishonest" and a "con trick", he would substitute those words for the contested phrase.
Ms Marwick told the MSP that she would consider her response, and has now written to him.
A spokeswoman for the Parliament said: "The Presiding Officer has written to Mr Findlay making clear that any repeat of his behaviour and language in the Chamber yesterday will mean an automatic referral about his conduct to the Standards, Procedures and Public Appointments Committee."