Committee backs down over Scottish Fiscal Commission role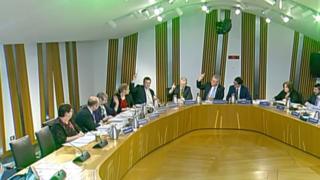 MSPs have backed down over calls to strengthen the role of the new Scottish Fiscal Commission.
Holyrood's finance committee had asked for the independent body to produce official forecasts on devolved taxes and scrutinise government finances.
However, amendments to achieve this end were narrowly voted down after Finance Secretary John Swinney gave evidence.
Mr Swinney questioned whether the body would be able to make "robust and reliable" tax forecasts.
A draft bill is being considered at Holyrood to create a statutory basis for the Scottish Fiscal Commission (SFC), which was announced in the wake of the Smith Commission recommendations for more devolution for Scotland.
Under current proposals, the Scottish government would put together the forecasts. In its earlier report, MSPs had said allowing the commission to fulfil this role would "enhance" its independence.
At that time, committee convener Kenneth Gibson said members were "strongly of the view" that the SFC should be "independent and perceived to be independent".
However, when amendments to give the commission more powers were tabled by Conservative member Gavin Brown, Mr Gibson and SNP colleagues Mark McDonald and John Mason voted alongside independent MSP Jean Urquhart to reject them.
Mr Swinney had told the committee that "international practice" was reflected in the way the bill was drafted.
He said the amendments would increase the operating cost of the commission and could "give rise to significant duplication" or even threaten the commission's independence.
Mr Brown moved a series of amendments to the bill, winning backing from Labour MSPs Jackie Baillie and Lesley Brennan but seeing them defeated by a vote of four to three.
'Genuinely disappointed'
During the meeting, Ms Baillie voiced disappointment that the amendments had not been accepted, and criticised "excuses" from other committee members.
She said: "We as a committee agreed this, and I'm genuinely disappointed that the consensus has not held good."
Mr Brown said it had been "a poor day for parliament, a disastrous day for the finance committee and bad news for the scrutiny of Scotland's finances".
He said: "Several committee members reversed their position from an agreed finance committee report just a few weeks ago.
"The stark contrast between what the finance committee agreed in its report and what certain members argued today is staggering. We are left with a bill that creates an advisory body instead of an independent scrutiny body."