Police Scotland chief Philip Gormley pledges new collaborative era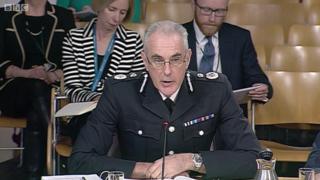 The new boss of Police Scotland Philip Gormley has told MSPs that his approach to the job will be about "collaboration and trust".
He made his statement while being quizzed by members of the public audit committee which is examining a report on the Scottish police accounts.
Mr Gormley became Police Scotland's second chief constable last month.
He took over from Sir Stephen House who had a difficult relationship with the Scottish Police Authority watchdog.
A single police service, which replaced Scotland's eight regional forces, was created in April 2013.
But disputes between the new Police Scotland and the police authority quickly emerged.
In November 2013, Sir Stephen admitted there had been tensions - but no power struggle - between him and the watchdog which was chaired at the time by Vic Emery.
An Audit Scotland report which has been looking at the financial fitness of the Scotland's police force said: "The Scottish Police Authority and Police Scotland must collectively provide stronger leadership both in terms of strategic and operational financial management."
Both Mr Gormley and the new chair of the police authority, Andrew Flanagan, promised a fresh collaborative approach.
Mr Flanagan, who has been tasked with reviewing the first three years of the single force, told the committee he was confident there would be "good relations" going forward.
Mr Gormley outlined to MSPs how he intended to work: "My approach will be to work collaboratively and in a complementary manner to the Police Authority.
"In my experience that is the only way we can generate light rather than heat. I have no view about the past.
"So, my approach going forward will be to work in an entirely collaborative manner with the authority recognising that we have different responsibilities.
"I have no interest in exchanging formal letters with the chairman, I think the relationship needs to be predicated on trust and transparency."
Three police pension schemes
The force has an annual budget of £1.1bn, but Audit Scotland has warned that there could be a potential funding gap of £85m by 2018/19.
As well as Mr Gormley and Mr Flanagan, the committee also heard from Paul Johnston, representing the Scottish government and Scottish Police Authority chief executive John Foley.
They were asked questions on the three separate police pension schemes that exist and the force's high cash reserves.