Every Scottish council accepts government funding deal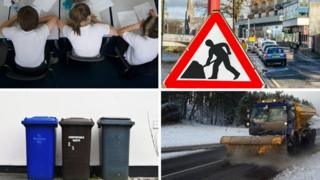 All 32 local authorities in Scotland have accepted the Scottish government's funding deal worth £10.3bn.
Finance Secretary John Swinney welcomed the settlement which will mean the council tax freeze continuing for a ninth year.
However, many authorities said they had accepted only reluctantly.
Local government body Cosla claimed that in order to make the deal work councils would need to cut services and axe jobs.
Mr Swinney insisted that the "package of funding" would enable local authorities to "increase the pace of reform and improve essential public services to communities all over the country".
What's the Scottish councils funding deal?
£10.3bn
Total funding package
£70m to continue council tax freeze

£88m maintain pupil/teacher ratio

£250m health and social care

£350m Cosla claims of cuts needed
PA
He said: ""My priority all along has been to deliver a financial settlement that councils can accept in order that we can pursue our shared priorities to improve outcomes for local people through health and social care integration and by improving educational attainment."
Tuesday was the day on which councils had to say if they would sign up to the agreement.
Both Stirling Council and South Ayrshire Council said they had given "reluctant" acceptance, but Clackmannanshire Council said it thought the deal was fair.
The Labour-led council administration in Dumfries and Galloway is seeking to delay its budget-setting process until the end of the month while it responds to the impact of the settlement.