Sturgeon writes to Cameron over fiscal framework deal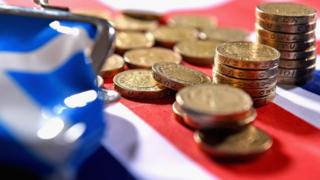 Nicola Sturgeon has written to the prime minister putting forward her case in the talks over a fiscal framework.
The Scottish and UK government have been locked in lengthy discussions over a deal to underpin new devolved powers.
Ms Sturgeon told Mr Cameron she was "committed" to reaching an agreement, but seeking clarity on key points.
Downing Street confirmed the letter had been received and a reply would be made "in due course".
A spokeswoman for the PM said the UK government was committed to implementing the Smith Commission deal on more devolved powers "in full".
She added that the outcome needed to be fair to Scotland and "it has got to be fair to taxpayers in the rest of the UK too".
Deputy First Minister John Swinney has held repeated talks with his Westminster counterparts about the fiscal framework, which the Scottish government wants to debate at Holyrood prior to dissolution in March.
The devolution committee called for a resolution by 12 February, to give time for scrutiny of the deal and debate by both parliaments, although Mr Swinney has written to the committee asking for "flexibility".
'Simply not acceptable'
Ms Sturgeon's three-page letter to Mr Cameron sets out the Scottish government's interpretation of the "no detriment" principle, a clause called for by the Smith Commission.
She said she did not think there was "any ambiguity whatsoever" in the commission's recommendations, and said an agreement on the principle could "greatly increase the probability of a successful outcome".
Ms Sturgeon added: "Provided tax policy in Scotland remains the same as in the rest of the UK, and Scotland's economic performance matches that of the rest of the UK, the Scottish budget should be no better or worse off, than if current funding arrangements continued without further devolution.
"Equally, no detriment under these conditions also means that the rest of the UK would be no better or worse off either.
"I must make clear that the approach taken by the Treasury so far - which seems to focus, not on delivering 'no detriment' but instead on seeking agreement on the amount of detriment that Scotland should bear - is simply not acceptable to the Scottish government."
A UK Treasury spokesman said: "The offer we have placed on the table would have delivered more funding for the Scottish government than the existing Barnett formula since devolution in 1999.
"From the outset our position on the fiscal framework has been clear - we stand ready to do a deal that is fair for Scotland and fair for the rest of the UK."
Scottish Conservative leader Ruth Davidson told the BBC's Daily Politics programme that she believed a far deal could be struck, but she accepted that negotiations were at "quite a delicate point".