SNP MSP Bill Kidd named in anti-nuclear group's nomination for Nobel prize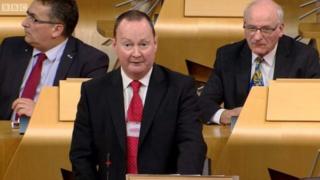 A Scottish politician who campaigns against nuclear weapons has been named as part of an international group's nomination for the Nobel Peace Prize.
The SNP MSP for Glasgow Anniesland, Bill Kidd, is co-president of global group Parliamentarians for Nuclear Non-proliferation and Disarmament (PNND).
The group was nominated for the prize by a member of Turkey's Republican People's Party (CHP).
The first Nobel award was presented to joint winners in 1901.
Founder of the Red Cross, Henry Dunant, and peace activist, Frédéric Passy were given the accolade.
The prize is named after Alfred Nobel - a chemist who invented dynamite.
In his will, signed in 1895, the Swede bequeathed his fortune to a series of prizes to honour men and women for "outstanding achievements" in physics, chemistry, physiology or medicine, literature, and for work in peace.
The letter backing the PNND's nomination named Mr Kidd because of his particular efforts in bringing a vote at Holyrood in favour of banning nuclear weapons from Scotland.
The MSP said: "It's a real honour to be included in this nomination - but more important is the recognition of the work done by parliamentarians around the world to oppose nuclear weapons, including the renewal of Trident.
"PNND play an important role in building a global network in favour of nuclear disarmament and it is a privilege to be a part of that."