Scottish Greens make six key pledges as part of election campaign launch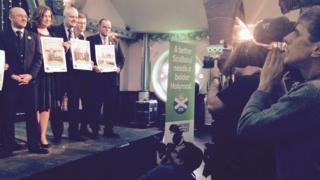 The Scottish Greens have launched their Scottish Parliament election campaign by making six key pledges.
The party wants a fracking ban, wages for home carers, and more than 200,000 jobs in green industries.
The three other promises include more land reform, better housing, and guaranteed jobs, training or education for every school-leaver.
The party's co-convenor Patrick Harvie said it was vital to "unlock the power" of communities.
The Scottish Greens have candidates on all regional lists for the Holyrood elections in May.
Mr Harvie said: "We believe that Scotland can be a better country for everyone who lives here and for a better Scotland. We need a bolder Holyrood.
"We believe that Scotland can unlock the power of our communities to invest in jobs, health and the economy. We believe that the Scottish Parliament can be so much bolder in meeting the ambitions of the people of Scotland.
He added: "The Scottish Greens have the people and the policies to make that happen. Our candidates have a solid track record of making a difference inside and outside Parliament.
"We bring fresh, new, bold ideas to Parliament. We will work constructively with others who share our aims. Holyrood - and Scotland - needs a diverse politics and progressive champions to hold the Scottish Government to account."
The Scottish Greens, which was formed in 1990 and is jointly led by Mr Harvie and Maggie Chapman, said their membership is at a record level, with numbers now reaching more than 9,000.