Committee calls for national debate on new tax powers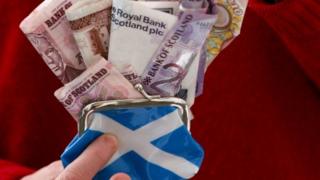 A "wide-ranging national debate" should be held on taxation in Scotland in light of new devolved powers, Holyrood's finance committee has said.
MSPs issued the call in a report on the Scottish government's draft budget.
Holyrood will be able to vary the Scottish rate of income tax from this year, although Finance Secretary John Swinney ruled out doing so in 2016/17.
The committee's report said there needed to be "a national debate" on how new powers should be used.
MSPs also voiced support for the Scottish government's decision to maintain the current rates and bands for land and buildings transaction tax, but recommended a review be conducted after a year.
Committee convener Kenneth Gibson said attention had been focused "rightly" on tax plans for the year ahead.
'More flexibility'
He said: "This is the first time we've had to consider a Scottish rate of income tax and, although the proposal is for this to be maintained at its existing level for this year, the additional financial powers expected to be delivered by the Scotland Bill mean that in the future taxation will account for 48% of devolved expenditure.
"It's important that people have the opportunity to contribute to a national debate on how these new powers should be used."
Scotland's new tax powers have been a talking point between Holyrood's parties in the build-up to May's elections.
More powers are also set to be devolved in the Scotland Bill once a fiscal framework underpinning them can be agreed.
Setting out his draft budget in December, Mr Swinney proposed to keep income tax at its current rate, but said he hoped Holyrood would have "more flexibility" in future.
The Scottish Liberal Democrats have proposed increasing the tax by 1p in each band, raising £475m to be spent on education.
Meanwhile, a tax commission set up by the Scottish Conservatives has suggested creating a new middle income tax band.