University warns of Scots 'brain drain' due to immigration policy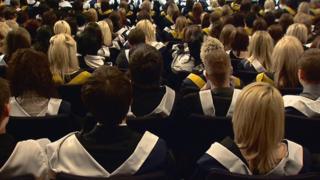 The University of Edinburgh has warned of a "brain drain of global talent" from Scotland due to the removal of the post-study visa.
Holyrood's parties are united in calling for the visa, which was abolished in 2012, to be reinstated.
The university has written to the devolution committee warning Scotland was "attracting, developing and then losing some of the brightest minds".
Scottish secretary David Mundell has pledged to listen to concerns.
There was anger from all of Holyrood's parties after Mr Mundell earlier said there was "no intention" of bringing back the visas, which allowed international students to stay in Scotland to work after graduation.
However, the Tory minister later told the Scottish Affairs committee that he would listen to concerns and take them to the prime minister.
'Damaging changes'
The UK Home office has previously said that there were "no plans" for reintroduction, adding that the system "undermined the UK's work migration routes and damaged the reputation of our education system".
In its submission to the devolution committee, which will take evidence on the matter on Thursday, the University of Edinburgh said some of the best talent in the world was being allowed to slip away.
It said: "There is little doubt that the closure of the previous work-study route has been one of the most damaging changes in UK immigration policy for the higher education sector.
"The reality is that it leads to a 'brain drain' of highly skilled global talent from Scotland."
South Lanarkshire College also wrote in to condemn the policy, which it said had seen its cohort of international students fall from 150 to one since 2012.
SNP MSP Jim Eadie said this was "damning evidence" which "lays bare the real damage the UK government's wrong-headed approach to immigration is having on our economy".
He said: "As the University of Edinburgh say, it makes absolutely no sense at all to bring students here to give them world-class education and training, and then kick them out of the country to allow other nations and economies to benefit from the skills learned here.
"Every political party in Scotland, our colleges, our universities and businesses want to see a return of the post-study work visa. It's time for the post-study work visa to be devolved to allow us to take a better, more progressive approach."