Nicola Sturgeon: 'Distance to travel' on devolution finance deal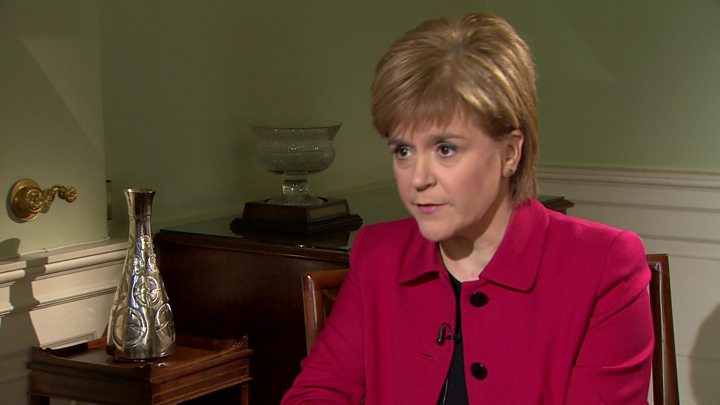 Nicola Sturgeon has warned there is "some distance left to travel" before the financial deal underpinning the Scotland Bill is agreed.
The first minister told the BBC's Andrew Marr programme the Scottish government is "busting a gut" to agree a deal before the middle of February.
Sources in the UK government have said they believe a deal is achievable.
Ms Sturgeon also spoke about the EU referendum, saying it "would be a mistake" to hold it in June.
Talks between the Scottish and UK governments on the fiscal framework have been ongoing for months.
Scotland's Deputy First Minister John Swinney and Chief Secretary to the Treasury Greg Hands held talks in London last week to determine how much cash the Scottish Parliament will get from the UK government once MSPs have new powers over tax-raising.
Ms Sturgeon said negotiations need to conclude by the middle of February.
The Scotland Bill, which is currently going through Westminster, is set to transfer income tax powers and new responsibilities over welfare to Scotland from April 2017.
Read more about Scotland's devolution process:
Asked by Andrew Marr how negotiations were going, she said: "We've got some distance still to travel.
"We have the legislative process for new powers which is, you know, coming to a conclusion. The new powers in the new Scotland Bill don't go anywhere near as far as I would like.
"I don't think they go as far as was promised during the referendum campaign but there are powers I would rather have than not have."
'Ready to do fair deal'
Ms Sturgeon went on: "Now these negotiations are ongoing. If we're going to get these new powers agreed and in place before the Scottish parliament election, the negotiation's got to conclude by the middle of February."
"I am still hopeful that we can reach this deal and the Scottish government will be busting a gut over the next couple of weeks to try to get to a deal, but we will need to see more movement, significantly more movement from the UK government than we've seen so far and if we don't get that - I repeat again - I will not sign up to something that is unfair to Scotland."
The UK government said it was "absolutely committed to implementing the Smith agreement if full".
A spokesman added: "From the outset our position on the fiscal framework has been clear - we stand ready to do a deal that is fair for Scotland and fair for the rest of the UK."
Responding to the first minister's comments Shadow Scottish Secretary, Labour's Ian Murray, urged both her and Mr Cameron "to stay at the negotiating table until a deal is done".
He said: "There should be no arbitrary deadlines that put any deal at risk. This is far too important to be derailed by political posturing.
"The people of Scotland - taxpayers, businesses and public servants - need to know when the substantial new powers in the Scotland Bill will be delivered and these mixed messages from the SNP are not helpful."
On the issue of the referendum on European Union membership, Ms Sturgeon said there were two reasons she was not in favour of a June date.
"One you might interpret as being a bit selfish," she said.
"The Scottish election is in May, indeed the Welsh, Northern Irish, London elections are in May. I think to have a referendum campaign starting in parallel would be disrespectful to those important elections.
"The second reason is I think it would be better for David Cameron, if he does get a deal at the February European Council, to leave more time between that deal and the point of decision.
"One of the big problems I see for the 'In' campaign, at the moment, is that, as far as David Cameron is concerned, it is very much focused on these narrow issues of renegotiation when in actual fact if the 'In' campaign is going to prevail, this is going to have to become a 'positive in principle' campaign about why it's better for the UK to stay within the European Union."
The first minister repeated her belief that a UK vote to leave the EU, but a Scottish vote to stay, would lead to an "overwhelming demand" for a second independence referendum.
She added: "The democratic outrage of being taken out of Europe against our will, I think would make that almost inevitable."