MPs quiz John Swinney on fiscal framework deal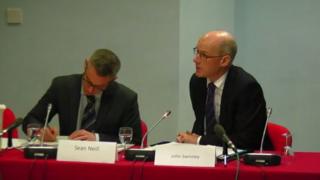 MPs from Westminster's Scottish affairs committee have quizzed Deputy First Minister John Swinney on Holyrood's funding settlement.
The committee convened in Perth to study the fiscal framework which will underpin new devolved powers.
On Sunday, First Minister Nicola Sturgeon said there was "some distance to travel" before a deal could be reached.
Mr Swinney echoed this, saying there was "hard work" to be done.
The UK government has said it believes an agreement is achievable.
MPs on the Westminster committee first asked economic experts about what could constitute a workable framework, before calling Mr Swinney on progress made in talks so far.
They heard evidence from Prof David Bell, who earlier told Holyrood's devolution committee that the principle of "no detriment" contained in the Smith Commission recommendations was "unworkable" in practice.
The framework will determine how much Scotland's primary source of funding, the block grant, will be affected by the revenue and spending powers devolved under the Scotland Bill.
'Genuine autonomy'
Mr Swinney told the committee that there was "some significant distance to travel" to resolve matters, despite seven meetings having been held with his Westminster counterparts on the joint exchequer committee.
He said "a lot of hard work and good faith" would be needed to have a deal in place by 12 February, in time for both parliaments to consider the Scotland Bill.
Mr Swinney said: "We seek a fiscal framework which gives the Scottish government the capability to create a fair and prosperous Scotland, and the ability to use the powers we have in an effective way.
"This has to be about genuine autonomy and choice..
"All of the issues are out on the table - they've been well aired within the joint exchequer committee. All the detail is essentially out there - we need to conclude what agreement is possible."
Scottish Labour called on the Westminster and Holyrood governments to "redouble their efforts" to reach a deal.
Shadow Scottish secretary Ian Murray said Mr Swinney was "going out of his way to dampen expectations".
Speaking on the BBC's Andrew Marr Show, First Minister Nicola Strugeon said the Scottish government was "busting a gut" to agree a deal before the middle of February.
The UK Treasury has said it "stands ready" to do a deal that "is fair for Scotland and fair for the rest of the UK".