MSPs hit out at UK Immigration Bill in Holyrood debate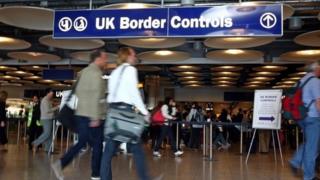 MSPs have hit out at the Westminster government's Immigration Bill during a Holyrood debate.
French-born SNP MSP Christian Allard led a debate "condemning" the bill, saying he was "appalled" by it.
Labour members also spoke strongly against the bill, which proposes a new offence of illegal working and requires landlords to carry out extra checks.
Conservative MSP Jamie McGrigor defended the bill, accusing Mr Allard of "talking nonsense".
The bill has also faced opposition from Labour, Lib Dem and SNP MPs at Westminster, with a bid to derail it defeated by a margin of 49 votes.
It is currently at the stage of committee scrutiny at Westminster. Home Secretary Theresa May has defended it as providing "greater fairness to British citizens and legitimate migrants".
Mr Allard asked Holyrood to unite to prevent the extension of the bill to Scotland, saying there should not be a return to "institutionalised racism".
He said he was "appalled" that the government was bringing forward the legislation at the time of a "refugee crisis", noting that Shelter Scotland has called for the Scottish government to be given a say on the bill.
He added: "I am an immigrant, proud to be one of the new Scots contributing to this country."
Mr Allard was backed by Labour's Ken Mackintosh, who said the bill would be damaging to communities and immigrants.
He said Labour was "firmly" against the legislation and called on the UK government to withdraw it.
Fellow Labour MSP Hanzala Malik said the bill was "very problematic" on many levels, saying it could undermine tenancy legislation in Scotland.
Mr McGrigor stood up for the bill, saying the Conservative government was elected to Westminster to "sort out the chaos" of the immigration system.
He said Mr Allard was "talking nonsense", and described the legislation as "proportionate and practical".
The Highlands and Islands MSP said the bill was set out to tackle illegal working and "rogue landlords", ensuring only lawful migrants can access services and making it easier to remove illegal immigrants.
Closing the debate, Europe and international development minister Humza Yousaf added his opposition to the bill, saying it touched on devolved powers and noting the Scottish government's commitment to "sensible, managed migration".
He said there seemed to be an "undue focus" on irregular immigration from the UK government, saying there was an "obsession" with immigrants.
He said: "Everything seems to be the fault of immigration, and sometimes immigrants can be too easy a lightning-rod to blame for all the faults in the country.
"Immigrants have made an incredible contribution to this country."