Seized pin caused Forth Road Bridge fault, engineer tells Holyrood inquiry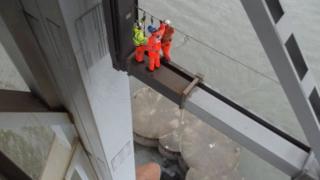 An engineering consultant has told the Forth Road Bridge inquiry that a seized pin caused the crack which forced the structure's closure.
Richard Hornby said the pin had probably been seized "for years".
In evidence to the infrastructure and capital investment committee, he added it was only the quality of the steel which had stopped it cracking earlier.
MSPs are holding an inquiry into the fault which led to the bridge's full closure for nearly three weeks.
The crossing has been re-opened to all traffic except HGVs.
Engineers informed the committee on Wednesday morning that such vehicles are scheduled to be back on the bridge in mid-February.
Mr Hornby said that there had been nothing in the inspection regime which would have discovered the seizure and that it was "virtually impossible" to lubricate the bearing.
He believed that only hi-tech "structural health monitoring" would have determined the fault.
The committee heard the latest monitoring will be used on the new Queensferry Crossing and is in place on some sections of the Forth Road Bridge.
However, to install it along the whole stretch could cost up to £10m.
Since 2001, the failed section was inspected - with the use of mirrors given the difficult access - 23 times and there was no fault found.
The bridge was closed on 4 December and re-opened to most traffic on 23 December.
Substantial disruption was caused by the closure, and the Scottish government clashed with opposition parties repeatedly over the matter.
A number of claims and counter-claims were exchanged over what work had been done on the bridge and what warnings were given about potential problems, which the committee is now seeking to address.
An independent technical expert has been taken on to advise MSPs during the inquiry, which will take evidence in January and February before reporting in March.
Amey's predecessor, the Forth Estuary Transport Authority, and Transport Minister Derek Mackay are all expected to be called before the committee.