Scottish government to lodge 49 Land Reform Bill amendments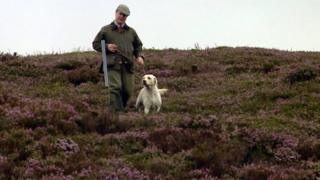 The Scottish government lodges 49 amendments to the Land Reform Bill amid calls for it to be made more "radical".
The legislation as it stands is concerned with management of land and ending tax relief for shooting estates.
MSPs had said the bill needed "more work", while SNP conference delegates backed making it more "robust".
Land Reform Minister Aileen McLeod said the changes would make the bill "the most radical and ambitious land reform legislation possible".
'Open to suggestions'
The latest changes come in addition to an earlier announcement of a provision to create a register of people in control of land in Scotland.
The bill also includes:
Provisions to force land sales if owners block economic development
Plans to strengthen regulations where land owners are failing to take deer management seriously
Improvement to the systems of right to roam and common good land.
Changes include:
Strengthening the commitment to public engagement
Changes to the way appointments to the proposed Land Commission are made
Stronger commitment to the Gaelic language in the commission.
The rural affairs, environment and climate change committee will consider amendments on the first five parts of the bill this week.
Ms McLeod said the government was "strengthening an already radical" bill.
She said: "This strengthened bill will change the relationship between the people of Scotland and the land that we live, work and depend on.
"As I have said before, I am open to ideas and suggestions relating to Scotland's land reform journey and will continue to listen to all the evidence and will consider any further suggestions."
Tax havens
The Scottish Green Party was not happy that amendments aimed at stopping tax avoidance were rejected.
It had proposed that companies and trusts not based in the EU should not be allowed to own land in Scotland.
Andy Wightman, from the Scottish Greens, said: "The committee's refusal to include an EU registration clause in the bill is extremely disappointing and the continued resistance of ministers shows how timid the Scottish government are on this issue.
"By stopping ownership based in tax havens we could have taken advantage of the EU's drive to tackle laundering and secrecy."
However, Labour's Sarah Boyack welcomed the amendments, saying they had come about as a result of pressure to "strengthen the bills purpose and increase transparency".
She added that her party would continue to work on a cross-party basis to strengthen the legislation ahead of the next parliamentary stage.