Court date set for IndyCamp Scottish Parliament legal battle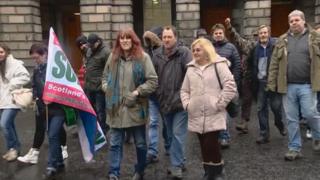 Arguments between the Scottish Parliament and a group of independence campaigners who have camped at Holyrood will be heard on 9 March.
A court date was set at a procedural hearing at the Court of Session.
The Scottish Parliament wants to have the IndyCamp group removed from Holyrood, arguing they are taking up land others could be using.
The campers argue they have a right to remain in place, and intend to stay until Scotland is declared independent.
Representative David Patterson signalled the group's intention to respond in the name of "the sovereign indigenous peoples of Scotland".
He also said the group wanted the United Nations to monitor proceedings, and called for a jury to be present to hear the case.
'Land for everyone'
Lord Glennie ordered four weeks for arguments to be submitted, followed by two weeks for these to be considered before a hearing in March to determine the next steps.
About 20 campaigners were present in court for the initial hearing. They declined to comment on the case.
A Scottish Parliament spokesman said: "The parliament makes its land available for the use and enjoyment of everyone equally, and we cannot permit its exclusive use by one particular group. We welcome the progress made today towards a resolution of the issue."