Minister defends Scottish college student numbers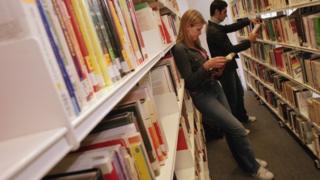 A deliberate move to eliminate low quality part-time courses is behind an apparent 152,000 drop in college students under the SNP, the skills secretary has said.
Roseanna Cunningham suggested previous figures may have been inflated by double or triple counting of students taking multiple short courses.
These courses would not necessarily result in long-term benefits, she said.
Opposition parties have criticised the government's handling of the sector.
Statistics released by the Scottish Funding Council on Thursday showed that the number of full-time equivalent places at Scotland's colleges rose in 2014/15, but the overall headcount dropped by more than 10,000.
'Needs of employers'
Student headcount for 2014/15 was 226,919, down 4.8% from 238,399 in 2013/14 and down from more than 379,000 in 2007/08.
The SFC said it expected to see a decrease in headcount from 2008/09 as colleges were asked to prioritise more "substantive courses" and reduce the number of students enrolled on leisure programmes and very short courses.
Ms Cunningham told the BBC's Good Morning Scotland programme: "We have aligned the college offer with the needs of employers so that we are moving from college students along a track where we are delivering full-time courses that are actually aligned to employment and further education, instead of a myriad of short part-time courses.
"Colleges are also aligning a lot more with the apprenticeship system.
"So, there has been a big change but it has been deliberately to ensure that what is being offered in colleges is of very high quality."
The Scottish government has said that the number of learning hours delivered to students with a disability has increased considerably since 2007, as have the average hours of learning per student and learning hours delivered on courses leading to a recognised qualification.
It has also said it has "once again comfortably exceeded targets on full time equivalent college student numbers".
'Losing out'
But Scottish Labour opportunities spokesman Iain Gray said: "No matter how they try to dress this up, these figures show that there are now 152,000 fewer students in colleges than there were when the SNP came to power.
"In particular, second-chance learners, women returners to work, workers seeking new skills, people with learning disabilities have all been squeezed out."
Scottish Conservative young people spokeswoman Liz Smith said: "Thousands of people of all ages and backgrounds are losing out achieving their dreams and this is unacceptable.
Liberal Democrat Liam McArthur said: "The swingeing cuts we have seen to part-time courses has been a huge blow for parents, carers and others who are looking to gain new skills but cannot afford to study full time. People who need to work to pay the bills have been priced out of the education system."
Larry Flanagan, general secretary of the Educational Institute of Scotland trade union, said: "The deep cuts to further education funding over the last few years, coupled with this change in government priorities, have weakened the 'lifelong learning' and 'opportunity for all' elements that have always been central to Scottish further education provision."