Police spying row officers decline Holyrood invitation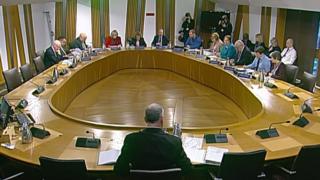 Three of four Police Scotland officers named in a probe of spying rule breaches have declined an invitation to give evidence to MSPs.
The justice committee is investigating after police officers intercepted communications without approval.
The committee wrote to the four named officers despite the force refusing to put them up due to "legal issues".
Via a representative body, three of the officers said they did not believe they could add to evidence already heard.
Committee deputy convener Elaine Smith wrote directly to the officers via their representative bodies after Police Scotland declined to pass along invitations to them.
Assistant Chief Constable Ruaraidh Nicolson gave evidence instead of them, saying the rule breach had occurred due to a "misinterpretation" of the new regulations.
'Further clarity'
The Association of Scottish Police Superintendents said Ch Supt Clark Cuzen, Det Supt David Donaldson and Det Supt Brenda Smith "would prefer not to attend a committee session at this time".
President Niven Rennie added that "none of our members believe that they have any information to share with the committee which would add to the evidence which has already been provided".
He also said that they believed a pending investigation by HM Inspectorate of Constabulary in Scotland would provide "further clarity" on the issue.
Committee convener Christine Graham said she intended to discuss the matter with the committee at its next meeting.
The Scottish Police Federation, which represents the fourth named officer, Det Insp Joanne Grant, is yet to reply to the committee's letter.
The probe was launched after the Interception of Communications Commissioner reported that Police Scotland officers had obtained communications data without getting judicial approval on five occasions.
Officers were attempting to determine details of a journalist's sources, with Mr Nicolson confirming that members of the Counter Corruption Unit were trying to find out how sensitive material made it into the public domain.
It is understood the case relates to the police inquiry into the 2005 murder of Emma Caldwell, after a reinvestigation was ordered last year.
The commissioner said the breaches "could properly be viewed as reckless".
Senior officers have said the errors occurred due to a "misinterpretation" of a code of conduct introduced 22 days earlier.