Court to consider motion in Holyrood IndyCamp legal row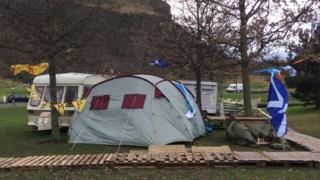 The Scottish Parliament's bid to have a group of camping independence campaigners removed from Holyrood land is to be heard at the Court of Session.
A motion has been served to the IndyCamp Live group which is to be considered at the court on 19 January.
The motion requests seven days for written arguments, followed by a procedural hearing.
The group have indicated their intention to keep up their Holyrood vigil until Scotland is independent.
They set up the camp outside the Scottish Parliament in late November, citing the Democracy for Scotland vigil as inspiration, and have installed a caravan and a number of tents.
Camp leaders have said they want to keep the camp occupied full-time until Scotland is independent from the UK, vowing to stay in place for years if necessary.
The Scottish Parliament opposes the group's presence, saying it could compromise the political neutrality of the parliamentary estate and occupying land which could be used by others.
Legal process
A spokesman said: "We recognise the importance of peaceful protests in a democratic society.
"However, by seeking to occupy this land on a long-term basis and refusing our request to vacate, we had no alternative but to commence legal proceedings.
"Today's action represents the next stage in the legal process to recover this land for wider public use."
The campers submitted arguments to the Court of Session in response to papers served on them by the Parliament last month.
A date for a procedural hearing is expected to be fixed at the court on Tuesday.