MSPs discuss Offensive Behaviour at Football Act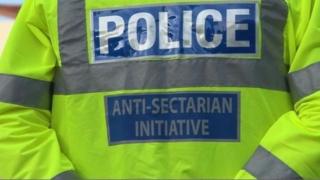 MSPs have quizzed campaigners who want the Scottish government to scrap the Offensive Behaviour at Football Act.
Holyrood's public petitions committee took evidence from football fans who say the legislation has eroded trust between supporters and police and has failed to tackle bigotry.
The act was introduced in 2012 in a bid to clamp down on sectarianism.
It has drawn criticism from opposition parties since its inception, with Labour supporting calls to scrap it.
The committee heard evidence from supporters from the Fans Against Criminalisation campaign group.
The group has staged demonstrations and entered a candidate in the Govan council by-election in 2013.
'Inherently dangerous'
Group spokesman Paul Quigley said the policy was targeting law-abiding supporters.
In evidence submitted to the committee, he said the government had "utterly failed" to deliver a vow that the legislation would be subject to review, although a government report was compiled last summer.
Mr Quigley said the act "clearly discriminates against one section of society" by singling out football fans and added: "To create a law which outlaws something as subjective as 'offensiveness' is both ridiculous and inherently dangerous. It is very easy to see how freedom of speech is under immense risk within this context."
Committee convener Michael McMahon MSP said the government would communicate the issues raised to the government.
He said: "It is our duty as parliamentarians to ensure legislation is fit for purpose. To this end we will ask the Scottish government to respond to the issues raised today and whether it is willing to consider a review of the Act."
A report evaluating the act's impact was put before MSPs in June 2015.
Community safety minister Paul Wheelhouse said the "extensive evaluation" vindicated the act, noting that it was not created "in a vacuum" but coming from "circumstances that could not be tolerated".
He said: "The evaluation shows that hateful and offensive activity has been a declining phenomenon at football in recent seasons since the act was introduced, in terms of the number of charges reported to prosecutors by the police."
'Arrogantly railroaded'
Labour's justice spokesman Graeme Pearson said MSPs of all parties should unite to demand a review of the act.
He said: "The Football Act is the most contentious piece of legislation passed since devolution. The SNP government arrogantly railroaded it through without any cross-party support, the first time that has ever happened in Holyrood.
"At a time when trust in Scottish policing is at an all-time low the Football Act has played an incredibly destructive role in the confidence fans have in the police.
"The reality is this law was a sticking plaster approach to sectarianism, brought in to manage headlines rather than deal with a complex problem which has affected Scotland for generations. Supporting a review is the first step on the path to repealing this misguided law."