Labour MSP Richard Baker quits Holyrood for charity role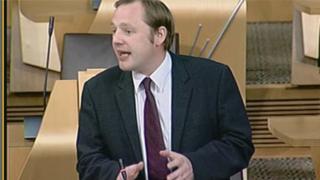 Scottish Labour MSP Richard Baker has stood down from the Scottish Parliament to take up a job with Age Scotland.
The North East representative had already announced he was not seeking re-election in May.
He said he was "delighted" to "start a new challenge with a charity which does so much for older people in Scotland".
Scottish Labour leader Kezia Dugdale wished him well, saying "parliament's loss is Age Scotland's gain".
The party is to nominate Lesley Brennan, the next person on the North East list, to replace Mr Baker. The Dundee city councillor stood for Labour in Dundee East in the 2015 general election.
Mr Baker was first elected to the regional list in 2003 and served as a shadow minister, and ran unsuccessfully for the deputy leadership of the party.
In an email to party members, he said: "I want to thank members again for their support over the years and my colleagues in parliament. I am delighted the final leader I have served under is one of our own from the North East.
"I was pleased to support Kez not only as a friend but for the great ability she brings to her role and know you will support her and the rest of the team in the months ahead."
SNP MSP Linda Fabiani said: "We wish Richard Baker well in his new role, but his hasty departure leads to a deeply embarrassing situation for Labour, as he is set to be replaced by one of Kezia Dugdale's fiercest internal critics.
"Given that one of their own MSPs evidently has no faith in Kezia Dugdale, Labour cannot really expect anyone else to."
---
Analysis by Brian Taylor, BBC Scotland political editor
Aspiring politicians are motivated by a range of reasons. Ditto when they depart. I well recall one erstwhile Labour cabinet minister telling me of an enduring sense of ennui at the prospect of, once more, "pushing treacle up the hill." Said minister opted to depart.
Mr Baker leaves as he arrived - with a firm note of loyalty to the leadership and comradely support for his party's endeavours.
He praises the ability of Kez Dugdale - while noting in passing that she is "the final leader I have served". That phrase "final leader", of course, summons up - without intent, I feel sure - the difficult and varied history which Labour has experienced in recent years.
Richard Baker formerly worked for Help the Aged and he is now returning to the sector to work for Age Scotland. In his closure is his beginning.
I wish him well, having always found him companionable, thoughtful and decidedly diligent. However, back to that point about the range of motivations which accompany political decisions.
Might Mr Baker's thinking - about the fact and timing of departure - have altered somewhat if Labour seemed better placed to thrive?
He spent a prolonged spell on the party's front bench, advocating and arguing. What if there appeared to be a more probable and serious prospect that he might become a minister, announcing and acting?
---