Labour's Ian Murray critical of John McDonnell on Progress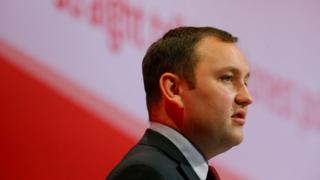 The shadow Scottish secretary has criticised John McDonnell's comments about Progress, which led to an MP resigning from a Labour party review.
Ian Murray told the Sunday Politics Scotland programme that "some people in the shadow cabinet, including the shadow chancellor, should really ramp down the rhetoric".
Mr Murray is a member of Progress.
It is chaired by Alison McGovern, who resigned from a child poverty review following Mr McDonnell's comments.
Progress is an independent group of Labour members, broadly seen as the Blairite wing of the party.
Mr Murray said: "We're all part of the same team and some of the words he chose in that particular interview were unnecessary.
"He should be trying to unite the party rather than ramping up rhetoric against parts of the party who are very loyal servants to the Labour party".
Mr McDonnell had referred to Progress as being part of a "narrow right wing clique".
Ms McGovern told the BBC that she resigned as she felt it was impossible to work with the Labour party leadership.
She also told the BBC the shadow chancellor had suggested Progress co-ordinated the resignation of three shadow ministers.
Ms McGovern, the Wirral South MP, said Mr McDonnell had asked her to take part in the Labour's policy review on child poverty and combating inequality.
The pair were due to meet for the second time to discuss the subject on Wednesday, but Ms McGovern claims Mr McDonnell was late because he was making media appearances.
She told BBC's Sunday Politics: "So I'm there waiting to meet him to talk about it and all the while he'd gone to the TV studio to call the organisation that I am chair of 'hard-right Conservative', of having a hard-right Conservative agenda. That's not OK."
No resignation thoughts
Mr Murray - Scotland's only Labour MP - was also asked on Sunday Politics Scotland if he ever considered resigning during last week's shadow cabinet reshuffle by Labour leader Jeremy Corbyn.
He said: "I haven't considered that because we need a strong Scottish voice in the shadow cabinet.
"My only concern at the moment is to make sure we put forward a policy platform for the 2016 Scottish elections that is radical, bold and is positive, to take the fight to the current Scottish government and to try and win as many seats as possible at the Scottish parliamentary elections while also holding this dreadful Conservative government at Westminster to account.
"I had no intention of resigning from the shadow cabinet as we are part of a team, we have got a big, big job to do as the official opposition in this country and that is why we will be working together as a team.
"That is why I think some of the language that has been used should be toned down slightly, and get back to that we should be doing and that is being the official opposition."