Holyrood holds first debate on regulations for lobbying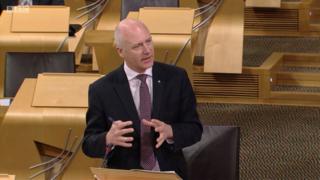 The Scottish Parliament has discussed a bill seeking to regulate the practice of lobbying for the first time.
MSPs debated the Lobbying (Scotland) Bill, which aims to increase transparency by creating a "lobbying register".
Organisations arguing cases to MSPs or ministers would have to register following any face-to-face lobbying.
MSPs unanimously backed the general principles of the bill, but some have called for it to go further.
However, the Federation of Small Businesses said the provisions of the bill could be too strict, catching out small firms in day-to-day contact with elected representatives.
Labour's Neil Findlay, who originally put forward a member's bill calling for regulation of lobbying in 2012, criticised that the register would not cover lobbying via telephone or email.
Fellow Labour member Mary Fee said interactions with special advisors and civil servants should also be logged, saying: "The bill as currently drafted is in danger of making the situation worse not better.
"All forms of communications with MSPs, including telephones and emails, should be covered by the bill."
Parliamentary business minister Joe Fitzpatrick said the government would "keep an open mind" on extending the reach of the bill, but said face-to-face lobbying was the most significant kind.
He said issues such as including civil servants in the register would need to be considered "very carefully", underlining the importance of lobbying in a democracy and noting the importance of allowing people to engage with parliament.
Fellow SNP MSP Stewart Stevenson agreed there was a danger of creating barriers to engagement with MSPs, and said there needed to be clear channels for constituents to communicate with their representatives.
'Light touch'
Fiona McLeod added that the founding principles of the Scottish Parliament were openness and transparency, voicing concerns that widening the scope of the bill could affect political participation and engagement.
Conservative MSP Cameron Buchanan agreed that the register should show a "light touch".
Colin Borland, of the FSB, said businesses appreciated the ability to speak to their representatives and visit parliament, and said MSPs themselves valued this.
He said: "These proposals don't make sense. They catch any number of people who no-one would seriously regard as a lobbyist.
"We encourage our members to let their elected representatives know about life in business, sharing insights and detailing challenges and successes.
"While it may not be parliament's intention to restrict such contact, unfortunately, the way in which the Lobbying Bill has been drafted will make this so impractical and onerous that it will effectively bring it to an end."