Scots government 'more optimistic' than OBR on property market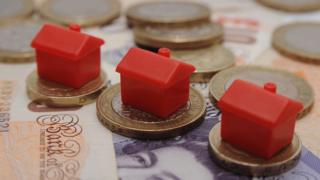 The Scottish government's forecasts for its stamp duty replacement are based on a "more optimistic view" of the market than that of the UK's financial watchdog, its chairman has said.
Robert Chote of the Office for Budget Responsibility was questioned by Holyrood's Finance Committee.
He said the Scottish forecast of income from the Land and Buildings Transaction Tax was £35m higher than the OBR's.
The difference is due to expectations of property prices and transactions.
Mr Chote said the Scottish government's draft budget expected a 15% increase in property transactions by 2020/21, compared to the OBR's expectation of 9%, along with assuming a more rapid increase in house prices over the same period.
He said the government's forecasts for residential sales that year were about £70m higher than those of the OBR, while its predictions for non-residential sales were about £36m lower.
He said: "I would not regard the difference between the two as being large, in comparison to the uncertainty that lies around either of the forecasts in isolation."
The Land and Buildings Transaction Tax (LBTT) replaced stamp duty in April 2015. Property experts have called for it to be reviewed, amid claims the higher end of the market is stalling.
The Scottish Fiscal Commission also submitted figures to the committee, estimating revenues of between £203.9m and £243.9m for 2015/16.