Poor performing BBC bosses 'should have pay docked', says media expert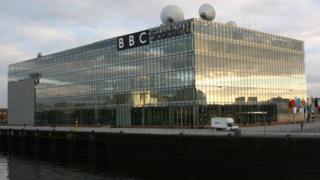 BBC bosses should have their pay docked if the broadcaster's performance in Scotland does not improve, MSPs have been told.
Media expert Prof Robert Beveridge made the suggestion during an evidence session to Holyrood's education and culture committee.
MSPs are discussing the future of the BBC ahead of its Charter Renewal.
Prof Beveridge was speaking alongside fellow academics Prof Neil Blain and Prof Philip Schlesinger.
The BBC in Scotland
What is raised and what is spent?
£323m
Licence fee generated in Scotland
£123m - Scottish-only output spend

£82m - Scottish-made network output

£132.5m - UK programmes and services available to Scotland
Based on audience satisfaction surveys and reviews of the BBC's coverage of the four nations of the UK - including the 2008 King report - Prof Beveridge said "Scotland had a problem".
Stop the rhetoric
The visiting professor of the University of Sassari in Sardinia, said: "My experience of the BBC, both as a citizen and as a consumer of their output, is that they know that they have a problem in Scotland and they have known for a long time that they have this problem in Scotland from their own research and they have done not enough about it. "
The self-declared "BBC loyalist" added that over a number of decades director generals and chairman had said "something would be done".
Prof Beveridge believed the "rhetoric" should stop and real change should happen by adopting new approaches.
He explained: "My proposal in my submission is that the director Scotland and the director general Scotland should have their pay linked to performance and if they don't really address the purpose gaps in Scotland then their pay needs to be docked because they are the people with whom the buck stops.
"But I don't want you as politicians telling the BBC what should be on the screens and what should not be on the screens."
The focus on the public service broadcaster comes as its Royal Charter - which details its purposes and governance - is up for renewal.
The matter is reserved to Westminster, but each of the devolved nations will have their say.
Tony Hall to appear
The committee questioned the academics on whether they believed BBC Scotland should have greater autonomy.
Glasgow University's Prof Philip Schlesinger said it was very important for politicians to "stay out of questions of programming and not be proscriptive about content".
Prof Neil Blain, from Stirling University, believed BBC Scotland should have at least one dedicated channel "completely edited in Scotland alone".
The committee will continue its examination of the BBC's future next Tuesday when the corporation's director general, Lord Hall, attends the committee to answer questions.
---
Drama at Holyrood