Survey finds parents concerned over new assessments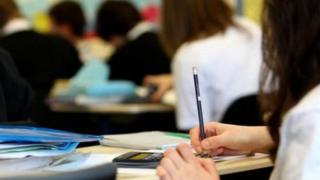 Parents have concerns about planned new assessments in schools, according to the organisation representing parent teacher councils.
The Scottish Parent Teacher Council (SPTC) said many parents were uncertain about how the data might be best used.
The Scottish government wants to start introducing so-called standardised assessments this year.
It hopes the tests will make it easier to determine what schemes aimed at raising attainment are working.
But a self-selecting survey of 265 people for the SPTC suggested parents have mixed opinions on the planned tests.
The Scottish government plans to introduce standardised assessments on literacy and numeracy across Scotland to replace the various forms of assessment used by different councils.
Children would take part on four occasions in the course of their time at school - in P1, P4 and P7 then in S3 at secondary school.
A few schools are expected to start introducing the tests this year, with the rest to follow next year.
Survey findings
Only a minority of parents who took part in the SPTC survey were opposed to the tests in principle but some had concerns about how the information might be used.
Of those questioned, 29% backed the principle of standardised assessments, while 49% had mixed feelings. Just 16% disagreed in principle with the idea.
But many parents appeared to be concerned about how the data might actually be used.
The SPTC said the priority amongst many respondents was to share the data between the child, parent and teacher - rather than with other schools or local authorities.
Eileen Prior, SPTC executive director, said: "From the feedback we received, it seems parents' greatest concern is the way data from the assessments would be used.
"In schools where standardised assessment is already used, participants rated their satisfaction at 2.4 out of five when asked about the way the information is shared.
"To us this indicates that gathering data does not solve the fundamental issue of how schools share good quality information with families in an effective way, and involve them in supporting their child's learning."
Many of those who took part felt that making data available on a national basis would lead to schools feeling pressure to rise higher in league tables, rather than using it to identify support and ways forward for individual pupils.
One parent commented: "A test score is self-limiting as it does not capture the strengths and achievements of pupils who do not test well."
Further details of the standardised assessments are expected from the Scottish government soon. They form a key part of the government's planned national improvement framework.
First Minister Nicola Sturgeon has insisted the assessments are not a return to the "high stakes testing" abolished more than a decade ago, while the government will not be publishing league tables.
League table fears
However, one key issue for unions - who are worried about the risk of unofficial league tables compiled by journalists and others - is just what data will be published and in what format.
The aim of the assessments is to help provide data to help the government with its aim of raising attainment in schools and close the gap between how well children from relatively rich and poor backgrounds do.
The argument is that the data could help show which schemes are working and which ones are not. It is claimed that there is often good data available at a council level just now, but comparisons between different areas are not always easy.
Teachers' unions have expressed concerns over what the tests could lead to.
The largest, the EIS, has warned of "unintended consequences" such as unofficial league tables and teachers simply trying to teach to the test, undermining the changes brought about through Curriculum for Excellence which were designed to give teachers more freedom.
Larry Flanagan, General Secretary of the EIS, said: "The SPTC survey confirms the view of the EIS that the potential misuse of assessment data, to support league tables and inappropriate target setting, is the greatest concern around standardised assessments.
"Parents and pupils are entitled to useful assessment feedback but it should be focused on improving learning not ticking political boxes."
However, Mr Flanagan has also said he is confident the Scottish government is listening to these concerns and optimistic a way forward will be found.