Nicola Sturgeon joins Jeremy Corbyn at Trade Union Bill rally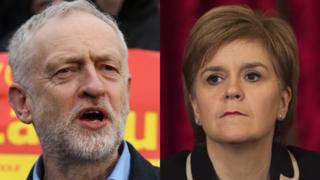 Scotland's First Minister Nicola Sturgeon has joined Labour leader Jeremy Corbyn at a rally opposing the UK government's Trade Union Bill.
About 2,000 people attended the rally at the Glasgow Royal Concert Hall.
It was organised by the Scottish Trades Union Congress (STUC).
The government wants to impose a minimum 50% turnout in strike ballots, which it believes is necessary to stop "endless" threats of industrial action.
Public sector strikes would also require the backing of at least 40% of those eligible to vote.
Under the current rules, strikes can be called if the majority of those taking part in a ballot vote in favour.
The bill, which would apply to unions in England, Wales and Scotland, will also:
Double the amount of notice unions have to give before a strike can be held - from seven to 14 days
Allow employers to use agency workers to replace striking staff
Introduce fines of up to £20,000 on unions for repeatedly failing to ensure picket supervisors wear an official armband
End the so-called check-off system for collecting union subs direct from a salary
Earlier this week, the Scottish government formally asked the Scottish Parliament to withhold consent for the Trade Union Bill applying to Scotland but the motion was turned down on Thursday by Holyrood presiding officer Tricia Marwick.
Ms Marwick said in her view Holryood's consent was not required for the Westminister legislation to apply north of the border.
Stop the War in Glasgow had asked anti-war activists to form a picket line outside the Royal Concert Hall to relay their message to the leaders attending the STUC rally.
Mr Corbyn is under increasing pressure to disown Stop the War. He was, until recently, the group's chairman.