Ministers submit bid to block union bill in Scotland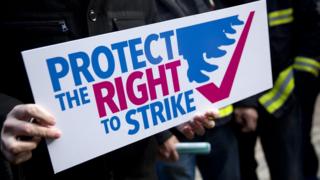 SNP ministers have asked the Scottish Parliament to withhold consent for the Trade Union Bill applying to Scotland.
Ministers have submitted a legislative consent memorandum, saying Holyrood should have a say on the Westminster bill as it affects devolved areas.
Fair Work and Skills Secretary Roseanna Cunningham said there was "clear opposition" to the bill in Scotland.
The UK government maintains the subject of the bill is entirely reserved.
Both the Scottish government and Scottish Labour have taken legal advice over the Trade Union Bill, which could put curbs on trade union powers and make it more difficult to call strikes.
The bill includes a requirement for a 40% turnout threshold for strike ballots in "important public services". It would also end the "check off" system, where union subscriptions are taken direct from pay packets.
Ms Cunningham said Scottish ministers had submitted a legislative consent memorandum (LCM), a motion normally used to give Westminster permission to legislate on devolved matters.
Employment and industrial relations are matters reserved to Westminster, but the Holyrood government believes Scotland should have a veto on the bill's implementation north of the border as it could impact on devolved powers.
'Clear opposition'
Ms Cunningham said: "Last month's Scottish parliamentary debate on the Trade Union Bill confirmed that there is clear opposition to this draft legislation in Scotland.
"There is little or no evidence to support its proposals and the UK government has made no attempt to consider how the bill impacts in Scotland and in particular on our public services. Our requests to be excluded from the bill have also been ignored.
"There is a clear case for Scotland to be removed from the bill or, at the very least, for the regulation-making powers to be confirmed as within the devolved competence of Scottish ministers.
"While the UK government maintain that the bill is reserved, we have asked the parliamentary authorities to consider a legislative consent memorandum asking the Scottish Parliament to withhold its consent for the bill."
While Scottish Labour has also taken legal advice on making a similar move, at a debate last month Scottish Conservative members hit out at the idea.
MSP Murdo Fraser said Holyrood "should not be duplicating the work of the House of Commons".