Why were there so many exam appeals in Scotland this year?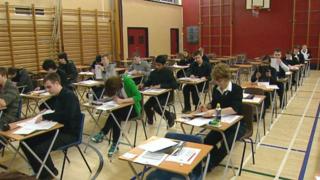 Appeals against exam results in Scotland have increased by more than 40% this year. BBC Scotland education correspondent Jamie McIvor looks at why more students have tried to have their results overturned.
The number of exam appeals is up significantly this year, but there is no straightforward explanation.
The concerns alone about the Higher Maths exam are not a major factor in the overall figures.
The total number of appeals has gone up but the proportion which led to a change in the grade is down.
There is a charge for appeals which do not lead to a change in the grade - this was designed as a deterrent against the purely speculative appeals which, it is alleged, some schools previously made simply because a candidate got a disappointing mark.
But does this also lead to a reluctance to make appeals which may, just, have succeeded?
Success rate
Earlier this year Labour flagged up a concern that an undue proportion of appeals were being made by independent schools. The suspicion was that, free from the cash constraints facing state schools, they were more likely to make appeals.
While some may have been speculative, Labour's worry was that if some state schools were reluctant to make appeals some candidates whose case had merit may have lost out.
While there may be anecdotal stories, actually finding widespread evidence of this happening can be hard.
The fact that appeal numbers are up but that the success rate is down can be interpreted in a number of ways.
It could mean teachers and schools are more confident about making appeals.
It could also mean that as the new exam system beds in, they are more confident in their judgement over whether a candidate got the mark they deserved.
But with a higher total NUMBER of appeals being successful (albeit a smaller proportion), might that also mean there were some candidates last year who deserved a better grade?
It is impossible to give a conclusive answer just now, but with the new system still under the microscope, the debate will continue.