Stan Collymore 'has left Labour to join SNP'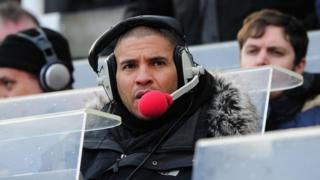 Former English premiership footballer Stan Collymore has indicated to his 750,000 Twitter followers that he has left Labour and joined the SNP.
A picture posted by the broadcaster appeared to show he had taken out membership of the Scottish party.
Mr Collymore was unhappy that 66 Labour MPs had backed the Conservative government on air strikes in Syria.
The SNP's 54 MPs voted against the House of Commons motion, which was passed by 397 to 223.
The 44-year-old said he had only rejoined Labour a "couple of months ago", but had now decided to cancel his membership.
Shortly after posing the question: "Can an Englishman join the SNP?" he tweeted an image reading: "Thank you for your payment to the SNP."
Mr Collymore also wrote: "Done. No more Tories infiltrating the grand old party of working people anymore. Time to change."
The SNP did not confirm to the BBC that the football pundit had joined the party. However, a spokesman said: "It is no surprise that people are leaving the Labour Party and joining the SNP after the House of Commons voted for air strikes."