IT glitch prevents questions from MSPs with N-Z surnames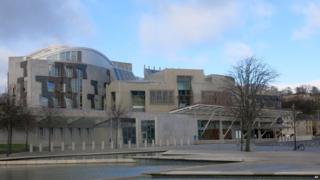 MSPs with surnames beginning with N-Z have not been able to ask ministers questions at some sessions of the Scottish Parliament since March.
The IT glitch was revealed in a letter sent by Paul Grice, chief executive of the Scottish Parliament, to MSPs.
It is thought some MSPs could not be selected to ask general and portfolio questions for up to 12 of the 27 weeks of parliamentary business.
Mr Grice apologised and said a workaround had been achieved.
The technical problem occurred with the software used to make the random draw of names of MSPs who could put oral general and portfolio-related questions to Scottish government ministers in the chamber at Holyrood.
In his letter, Mr Grice said his staff became aware of a "recurring pattern" of members not being selected if their surname began with a letter coming after M in the alphabet.
He added: "This situation is clearly unacceptable. I wish both to apologise sincerely for the failing and to advise you of the steps that are being taken to prevent any recurrence."
The parliament's chief executive said the problematic software would now be replaced.