Nicola Sturgeon to consider action against SNP MP Natalie McGarry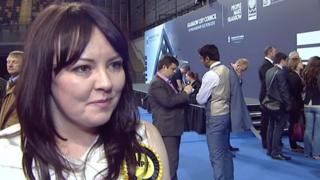 Nicola Sturgeon says she will consider action against SNP MP Natalie McGarry, who is being investigated by police over apparent discrepancies in an independence campaign fund.
But Ms Sturgeon said she needed more information about the case, after Women for Independence reported concerns.
Scottish Labour called for Ms McGarry to be suspended, and said the probe could "cast doubt" on her election.
The Glasgow East MP's solicitor said she denied any wrongdoing.
Women for Independence (WFI) called in police after senior staff raised concerns over apparent discrepancies between donations made to the group and its expenditure.
Ms McGarry was one of the founding members of the organisation, which played a leading role in the independence campaign and has continued to campaign since.
The group said it had been examining its finances relating to a period between 2014 and its formal constitution as an organisation in March 2015.
'Done absolutely nothing wrong'
Ms Sturgeon said she would consider action against Ms McGarry, but said she needed more information about the "very serious allegations".
She said: "Right now, beyond the generality of those concerns, I don't have detail about the basis or the substance of them.
"But I will consider and continue to consider the matter very carefully and if there is action I think the SNP are required to take then that action will be taken.
"But it is important that we get a balance in all of these situations between sending a message about expecting the highest standards which I always do but also giving proper place to due process, fairness and a presumption of innocence.
"It's also important to say that Natalie McGarry is adamant that she has done absolutely nothing wrong."
In a letter to the First Minister and SNP leader, Scottish Labour MSP Jackie Baillie said the allegations about "missing donations" were "very concerning".
She said that given that Michelle Thomson was suspended from the SNP during a police investigation into property deals, it was right that Ms McGarry should be too.
In an interview with BBC Scotland, Ms Baillie said there were "parallels" with the Alastair Carmichael case, which has gone before an election court, saying the allegations could "cast genuine doubt on the outcome" of the election.
She said: "If she went into an election knowing this was hanging over her and the SNP allowed that to happen, there are parallels with Alastair Carmichael that I'm sure many commentators would draw, and for me certainly, it would cast genuine doubt over the outcome of that election."
Ms Baillie queried "who in the SNP knew what and when" about the allegations, saying it would be "a very grave matter indeed" if anyone in the party had known of the allegations before May's general election.
She said there were reports that seven WFI committee members who reported the allegations to police were SNP candidates, and she asked Ms Sturgeon when the party was made aware of the case.
She said: "I would hate to think that this has been held back somehow, pending the general election, because Natalie McGarry was a member of the board.
"I hope people weren't trying to suppress things to make sure she was elected first. I would be disappointed if that was the case."
A spokesman for the SNP said the party was "aware of the reported discrepancy" in the accounts, but was "yet to see the details behind the claims".
Solicitor Aamer Anwar, who is acting for Ms McGarry, said the MP was ready to meet police, but was "certain that there has been no wrongdoing on her part".