Another Lords committee calls for Scotland Bill delay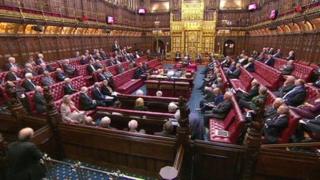 A second parliamentary committee has called on the UK government to consider halting the legislation to give Holyrood more power.
The House of Lords constitution committee has published a report on the Scotland Bill ahead of its second reading in the Lords on Tuesday.
It states that progress of the bill should be delayed until essential information is available.
The bill completed its journey through the Commons earlier this month.
Last week, another committee of peers, the House of Lords economic affairs committee, said the progress of the bill should be halted until the financial implications of what was being proposed was made clear.
An agreement on the fiscal framework has yet to be reached by the UK and Scottish governments.
New method
The UK government said discussions had been constructive and both sides aimed to complete them "as soon as possible".
Scotland's Finance Secretary John Swinney said the Scottish government would only approve the bill if it had a "fair fiscal framework agreement".
Last week, the Institute for Fiscal Studies (IFS) said Scotland's new package of powers may not be workable and could require an entirely new method of funding devolved governments.
It said it was not possible to guarantee that the powers would not adversely impact on Scottish or UK budgets.
It also said the Barnett formula that calculates Scotland's share of UK spending should be reformed.
This would defy a key recommendation of the Smith Commission.