SNP MP Natalie McGarry investigated over 'missing donations'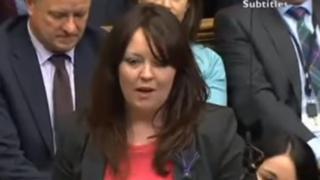 An SNP MP has been named as the person being investigated by police over financial discrepancies from a campaign fund for Scottish independence.
Natalie McGarry, the Glasgow East MP, was one of the new intake of nationalists MPs in May's general election.
The party said it was aware of discrepancies in the accounting at Women for Independence.
Ms McGarry's solicitor said she denied any wrongdoing.
Women for Independence (WFI) called in police after spotting discrepancies between donations made to the organisation and its expenditure.
Ms McGarry was one of the founders of the organisation in 2012. It played a leading role ahead of last year's independence referendum campaign, and has continued to campaign since.
'Apparent discrepancy'
Women for Independence said the discrepancies occurred between 2014 and its formal constitution as an organisation in March 2015, with concerns first being raised during the summer.
The group said in a statement said: "Women for Independence have, for several weeks now, been examining the finances of the organisation after our senior support staff raised concerns in late summer.
"We have identified an apparent discrepancy between our income (via donations) and the expenditure which we currently have evidence of.
"Because of the potential seriousness of this issue, the national committee of WFI decided that the right thing to do was to pass this matter to the police."
The statement added: "The situation we have referred to the police for further inquiry is serious but we want to stress to our supporters that appropriate, robust and transparent controls are now in place to protect any monies donated to WFI now or in the future."
'No wrong doing'
Solicitor Aamer Anwar, who is acting for Ms McGarry, said the MP was "aware that suggestions of reported discrepancies in the accounts of Women for Independence have been passed to Police Scotland".
Mr Anwar added: "This morning I contacted Police Scotland at Natalie's request to advise them that she is ready to meet with them should they wish to.
"Accordingly I have advised Natalie that it would be inappropriate to make any further comment until the conclusion of that inquiry, other than to state that she is certain that there has been no wrong doing on her part."
A spokeswoman for Police Scotland confirmed it had received a report and the matter was currently under investigation.
A spokesman for the SNP said:"We are aware of the reported discrepancy in Women for Independence's accounts. We are yet to see the details behind the claims."
The Scottish Conservatives said that Ms McGarry must be "suspended immediately" by the SNP if it is the case that she is being investigated by the police.
A spokesman for Scottish Labour said: "When it was reported that Michelle Thomson was subject to a police investigation she had to leave the SNP.
"Nicola Sturgeon told the Scottish Parliament that was the right thing to do. What is right for Michelle Thomson must surely be right for Natalie McGarry."