Paris attacks: Scotland's party leaders unite to oppose terrorism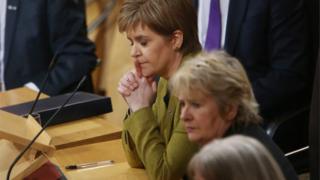 Scotland's political leaders have united in their condemnation of the terrorism attacks in Paris.
First Minister Nicola Sturgeon told Holyrood the country needed to show "defiance and solidarity" not "fear and division".
Scottish Labour leader Kezia Dugdale said she echoed Ms Sturgeon's words.
Scottish Tory leader Ruth Davidson; Scottish Lib Dem leader Willie Rennie and Scottish Green leader Patrick Harvie spoke against the atrocities.
A series of attacks took place in Paris on Friday night in which 129 died and hundreds were injured.
A senior representative from the French consulate and members of Scotland's French community were in the Scottish Parliament chamber to hear the politicians speak.
---
What messages were in the motion of condolence?
By BBC Scotland political editor Brian Taylor
The motion offered condolence and sympathy - but it also obliquely addressed the concern potentially present among the people of Scotland over the arrival in Scotland today of further refugees from Syria.
I understand that issue also featured in the Scottish Cabinet discussion earlier. Ministers were keen to condemn those organisations which might seek to foment discord in Scotland over asylum - but to distinguish between that and wider opinion among the fretful Scottish population.
It was, as one insider readily acknowledged, a nuanced standpoint. It would be all too easy to issue a blanket appeal, disdaining anxiety. Such would be wrong. It was better, instead, to understand the anxiety and to offer answers.
---
A motion - lodged by First Minister Nicola Sturgeon and signed by all party leaders - was put before the parliament saying it extended "its solidarity and that of the people of Scotland to the people of France and offers its condolences to all those affected by the appalling terrorist attacks in Paris".
The first minister told the chamber: "What is very clear is that the reaction to the events in Paris, the shock, the sorrow and the anger, is shared by people of all faiths and none, just as it is shared throughout this chamber and in every community across Scotland and around the world.
"It is, of course, a normal and entirely understandable human instinct to be anxious and fearful in light of what happened on Friday night - we all feel it.
"But we must also together, as a society, resist the instinct to retreat or to turn on each other. Our response must be one of defiance and solidarity, not fear and division."
'Welcome with open arms'
The motion followed a warning from Ms Sturgeon that there was "absolutely no place" for bigotry and prejudice in Scotland.
The address to parliament took place on the day that a group of refugees from Syria arrived in Glasgow under the UK government's resettlement scheme.
Labour's Ms Dugdale said: "What happened on Friday night wasn't just an attack on the people of Paris, but on the way of life of those of us who want to live in a world marked by values of freedom and tolerance."
She called for refugees arriving in Scotland to be welcomed with open arms.
Ms Dugdale added: "Let's look at them like we do those Parisians who fled the violence on Friday evening. People, like you and I, who don't want to live in fear of constant violence."
Ms Davidson said the response to the attacks must be "to show that all of us - Muslim and non-Muslim, secular or religious - stand resolute in exposing this poisonous ideology for what it is - a sham cult preying on immature young".
"We must confront all those who seek to embed its poison in our society."
Mr Rennie called for a measured response, saying "we must nurture our progressive, liberal, free society.
He added: "We must be resolute. This is a time to grieve, to heal, to plan, to solve and to unite."
And Mr Harvie, co-convener of the Scottish Greens, said the attacks were designed to drive "more disaffected and angry young people, who experience anti-Islamic prejudice every day, into the arms of the terrorists"
He added: "Liberty, equality, fraternity - these are values which should be at the heart of European society and they are under direct attack."