College lecturers to be balloted on industrial action over pay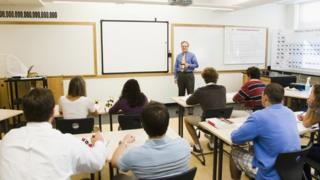 Scotland's largest teaching union, the EIS, is to ballot its college lecturer members on possible industrial action.
Their headline pay offer is worth 1% but some want bigger rise to even out inequalities between colleges.
The union said it's Further Education Lecturers' Association (Fela) had delivered a "clear rejection" of the final pay offer at a special meeting.
General Secretary Larry Flanagan urged Scottish ministers to step in to ensure "a fair and acceptable pay offer".
EIS-Fela president John Kelly said: "The very strong attendance at today's conference reflects the fury throughout the sector at the current situation in further education.
"The purpose of our conference today is to highlight the inequality in FE lecturers' pay.
"There is absolutely no reason why we shouldn't have equal pay in colleges the length and breadth of the country."