Vote against Trident 'exposes rift' in Unite union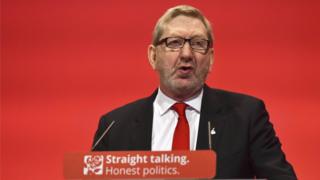 The vote against renewing Trident at the Scottish Labour party conference has exposed a rift in the UK's largest trade union, Unite.
The divisions are laid bare in emails between a union convener and Unite's general secretary Len McCluskey.
They reveal the frustration of Unite workers at Trident's home base with the national position taken by their union.
In one email, Mr McCluskey says Unite will defend Trident-related jobs. Three days later Unite voted 'no' to renewal.
The UK's nuclear weapons system, including the submarines that carry them, is situated at the Faslane naval base on the Clyde.
National security
The email exchange was released by Dumbarton MSP Jackie Baillie, a Unite member whose constituency includes the Clyde base.
It began at the end of September 2015 when the Unite union convener on the Clyde, Derek Torrie, wrote to Len McCluskey.
He was "seeking assurance" that the union "will not deviate in any way from opposing any anti-Trident motion put forward at the Scottish Labour conference".
In mid-October, Mr Torrie chased a reply.
When this had not arrived by 27 October, he sent a further message describing the lack of response as "extremely disappointing".
He contrasted "silence and no response" from Unite with the GMB union's strident defence of Trident workers as "vital to national security".
Mr Torrie said: "In the absence of a response to my previous emails, the 800 members of Babcock Clyde are left questioning whether or not their union contributions are going to a union that supports their jobs or one that stands on the verge of abandoning them."
Two days later, on 29 October, Mr McCluskey replied with apologies for the delay.
His message appeared to offer reassurance.
He rejected claims that defence diversification would provide alternative employment for Trident workers if the programme were scrapped.
"It (diversity) has produced nothing and is unlikely to produce anything of any substance in the future," Mr McCluskey said.
"Until we get guarantees about credible diversity of jobs, Unite will defend its members' jobs and communities."
'Take a lead'
Those remarks were made three days before Unite delegates at the Scottish Labour conference in Perth voted against renewing Trident.
In the debate, Unite's senior Scottish official Pat Rafferty argued that the UK should take a lead on nuclear non-proliferation and use the money saved from scrapping Trident to make defence diversification work.
The Scottish Labour vote does not change the position of the wider Labour party, let alone the position of the UK government.
MPs from both parties were elected on manifestos promising to renew Trident.
In his email, Mr McCluskey anticipates the decision to go ahead will be taken by the UK Parliament as early as March 2016.
In the meantime, Unite's membership on the Clyde may decline, with unions like the GMB and Community apparently eager to recruit.