SNP conference 2015: Delegates vote for more radical land reform plans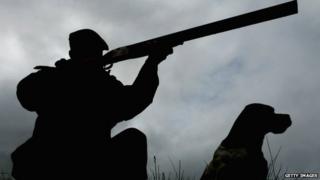 Delegates at the SNP conference have backed calls to make the proposed Land Reform Bill more radical.
The legislation going through Holyrood suggests ending tax relief for shooting estates and forcing land sales if owners block economic development.
However, SNP members voted by 570 to 440 to have their party's policy on the matter looked at again and made more robust.
The move will not necessarily affect the passage of the bill.
Ahead of the vote, the Scottish government's environment minister and SNP MSP, Aileen MacLeod, told the gathering in Aberdeen that she was "listening" and would consider ways in which the legislation could be strengthened.
In light of the vote, made on the second day of the conference, the party will now have further discussions on the issue.
SNP leader Nicola Sturgeon set out the land reform proposals shortly after becoming Scotland's first minister in November of last year.
She said at the time that "Scotland's land must be an asset that benefits the many, not the few".
Other proposals in the bill include:
measures to clarify information about land, its ownership and its value, with a Scottish Land Reform Commission being set up to make recommendations on future reforms.
encouraging better information and greater transparency on the ownership of land, through the land register
strengthening regulations where land owners are failing to take their deer management responsibilities seriously
improvements to both systems of common good land and right to roam.
The Scottish government has set a target of doubling the amount of land in community ownership from the current 500,000 acres to one million acres by 2020.
A number of delegates to the SNP conference said they wanted to see a strengthening of the bill.
In response to those calls, Ms MacLeod said: "I welcome the very strong contributions made in the debate and the passion and commitment that they have been delivered. I am listening to all the comments and evidence made thus far to the rural affairs committee [at the Scottish Parliament].
"This bill is not an end in itself and as a government we are committed to taking forward the recommendations of the land reform group.
"The bill will put to an end the stop-start nature of historic land reform.
"I want to give you my reassurance that I am listening as to ways in which we can strengthen the bill further."