'Constructive talks' over Scotland Bill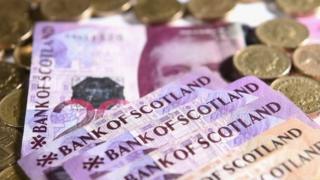 The UK government has said it expects a deal by the end of the month on the financial framework which will accompany the further powers to be devolved to Holyrood.
It followed talks in London between Scottish Secretary David Mundell and the Scottish government's Alex Neil.
Mr Neil described the discussions as "constructive".
But he said agreement would depend on amendments to the bill, which have still not been published.
Scottish Finance Secretary John Swinney has previously said the Scottish government would block new powers for Holyrood unless there was an acceptable deal on the financial framework.
'Principles and values
Ahead of the meeting between Mr Mundell and Mr Neil, the Scottish government announced it would publish a new paper by the end of the year setting out its vision of how the new welfare powers contained in the Scotland Bill could best be used.
Speaking later, Mr Neil said: "We had another constructive meeting today but have yet to see any tangible progress or detail of any of the amendments promised by the UK government.
"It is absolutely crucial that we get the chance to comment on them as meaningful consultation with the Scottish government is essential to strengthen the Scotland Bill so that it reflects both the spirit and substance of the Smith recommendations.
"The Scottish public deserve clarity over our new powers which is why I have now requested a clear timetable."
The Scottish government says the powers in the Scotland Bill do not go far enough, and has called for greater control over welfare to be handed to the Scottish Parliament.
It has also been critical of UK government plans to cut tax credits for working families.
But Mr Mundell said the Scottish government would be able to "top up" tax credits and child benefit payments as part of new powers over welfare.
'Introduce payments'
He said: "Scottish government ministers will be able to design a significant part of Scotland's welfare system and control income tax to pay for it.
"If they want to top up existing benefits, they will be able to. If they want to introduce payments to those in short-term need, or design new benefits in those welfare areas being devolved, that will also be an option available to them.
"Powers in the Scotland Bill ensure the Scottish Parliament will have the means to pay for any changes, but it will have to justify them to the public, as under the new arrangements, income tax raised in Scotland will stay in Scotland and be spent in Scotland."
Labour's Shadow Scottish Secretary Ian Murray said: "I want the Scottish government to have the power to create new benefits, to protect the vulnerable from Tory cuts and to raise all the money it needs for public services."
"It is time for the politics to stop and for the SNP government to get on with using powers now."