New law to tackle 'revenge porn' and domestic abuse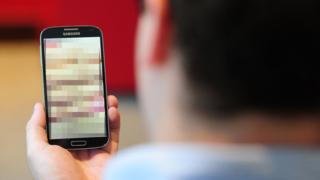 A bill to tackle the rise of so-called "revenge porn" has been published by the Scottish government.
The new law will make it a criminal offence to publish explicit images of someone without their consent.
The Abusive Behaviour and Sexual Harm Bill will also strengthen police powers to tackle domestic abuse.
Revenge porn often involves someone posting, or threatening to post, intimate photographs or video of a former partner online.
Scotland's senior prosecutor, the Lord Advocate Frank Mulholland, has described it as "a form of insidious abuse designed to inflict humiliation and suffering on its victims".
The government said its measures reflected the way modern technology could be used to perpetrate abuse.
The bill also includes measures to improve justice for victims of domestic abuse, with juries to be given specific directions to ensure they understand the complexity of the law.
'Bold approach'
If passed by parliament, it would ensure child sexual offences committed in England and Wales by Scottish residents can be prosecuted in Scotland.
The Scottish government said the system of civil orders would also be reformed "to improve protections for communities from sex offenders and to help prevent sexual harm".
Justice Secretary Michael Matheson said: "Domestic abuse and harassment are appalling crimes which often affect some of the most vulnerable members of our society.
"I am proud of the bold and unapologetic approach we're taking to tackle these crimes in Scotland and this bill sends out a strong message that domestic violence will simply not be tolerated.
"These proposals will improve the way the justice system responds to abusive behaviour, holding perpetrators to account for their actions and improving public safety.
"It will also remove some of the current barriers to justice by improving understanding of domestic abuse and sexual harm, something we know is lacking in the current system."